Some RBS Ulster Bank accounts won't be functioning until 16 July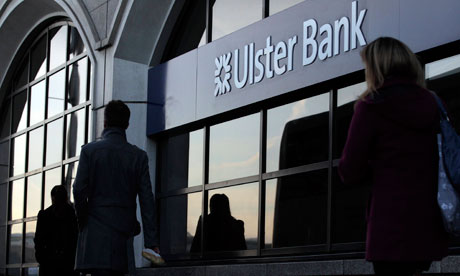 Customers of Ulster Bank could end up going without a fully functioning bank account for an entire month…More than a fortnight after a technical problem sent the bank's computers into disarray, many customers are still experiencing difficulties accessing accounts and processing payments, with some reporting that vast sums of money have disappeared in the system…
The chief executive of Ulster Bank, Jim Brown, apologised to customers, who he said had every right to be frustrated, adding: "Our efforts to fix this are paying off, and over the last few days we have been able to gain a much clearer picture about when we expect all systems to be largely back to normal. WTF?

"We expect gradual and significant improvements for our customers and each day we will see more transactions processing, fewer problems with our systems, and less inconvenience for our customers." Brown thanked other banks who had worked with his own to help process payments.
Accounts are supposed to be up and running again as normal at NatWest and RBS, but customers have been told to check their balances after it emerged that some had personal loan repayments debited twice.

Also, on NatWest's website several customers are reporting that cheques paid into accounts on 25 June have still not cleared.
This is more than the usual geek rationale: garbage in = garbage out.
Creative excuses are starting to spin inside banking circles. They all devolve to incompetent decisions made – governed by beancounters overruling everyone.