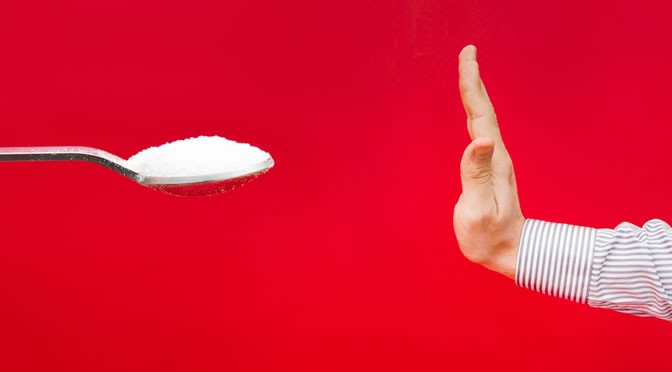 Sweet news from the FDA: The government agency is proposing that Nutrition Facts labels also include the "% Daily Value" for added sugar. In 2014, they proposed that Nutrition Facts labels on packaged foods list the grams of added sugar in addition to the grams of total sugar, but now they're taking things a step further.

The Daily Value, or DV, is the amount of an essential nutrient that meets the needs of most people. There are also DVs that indicate upper limits of stuff we shouldn't get too much of, like sodium and saturated fat. The FDA is taking the recommendation of the 2015 Dietary Guidelines Advisory Committee (DGAC) that added sugars not exceed 10% of total calories. Since the feds use a reference diet that contains 2,000 calories daily, that puts the DV for added sugar at about 200 calories, or 50 grams, maximum.

If the proposal goes through, the labels will list grams of added sugar and the %DV they provide per serving.
The reason nutritionists don't like the current Nutrition Facts label is that it seems to confuse consumers by implying there might be added sugar when there isn't. Look at a label now and you'll see that it just lists "sugars" under the carbohydrate heading. That's fine when the only sugar in a product is added sugar, as with soda and most hard candy. But things get more complicated when you look at foods like tomato sauce, pure fruit juice, or even plain milk and yogurt…
Check the labels on those foods and you'll also find that they have "sugar," but most of it is simple carbohydrates that are naturally present in the food — what's generally regarded as "intrinsic" sugar. It's also why many of your patients may want to know why the orange juice they buy has sugar in it. "It's supposed to be 100% juice," they'll say.

It is, of course, but the label didn't allow for distinguishing between intrinsic sugar and added sugar. If this proposal goes forward (and I cannot imagine it wouldn't) then 100% juice will list the grams of total sugar and "0 grams" of added sugar.
Even whole fruit has intrinsic sugar (a reason it tastes good) but the labels on those packages of cut-up fresh fruit you buy still have to list just total sugar. The last thing we should want is a label that scares our patients away from eating whole fresh fruit…
Consumers have already cut their sugar intake during the past decade. Between 1999 and 2008 an analysis of government data on added sugar consumption showed we had decreased our average daily intake of added sugars by nearly 25% — from 100 grams daily to about 77 grams. That's huge, and most of it was from decreased soda consumption (sugar from "energy drinks" was the only category where added sugar actually increased a bit).

Knocking out sugar-sweetened beverages from diets gets our patients half-way to a better diet because these drinks provide about half of Americans' added sugar…
An informed consumer…says Dr. Keith Ayoob.