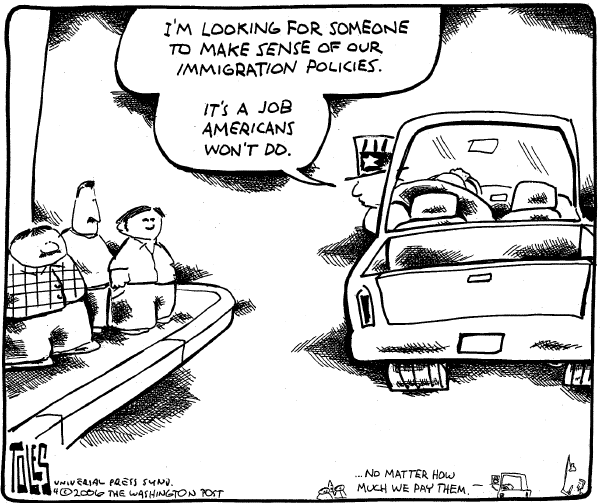 Europe's migration crisis exposes a fundamental flaw, if not towering hypocrisy, in the ongoing debate about economic inequality. Wouldn't a true progressive support equal opportunity for all people on the planet, rather than just for those of us lucky enough to have been born and raised in rich countries?

Many thought leaders in advanced economies advocate an entitlement mentality. But the entitlement stops at the border: though they regard greater redistribution within individual countries as an absolute imperative, people who live in emerging markets or developing countries are left out.
If current concerns about inequality were cast entirely in political terms, this inward-looking focus would be understandable; after all, citizens of poor countries cannot vote in rich ones. But the rhetoric of the inequality debate in rich countries betrays a moral certitude that conveniently ignores the billions of people elsewhere who are far worse off…
By many measures, global inequality has been reduced significantly over the past three decades, implying that capitalism has succeeded spectacularly. Capitalism has perhaps eroded rents that workers in advanced countries enjoy by virtue of where they were born. But it has done even more to help the world's true middle-income workers in Asia and emerging markets. Even though that had nothing to do with intent.
Allowing freer flows of people across borders would equalize opportunities even faster than trade, but resistance is fierce. Anti-immigration political parties have made large inroads in countries like France and the United Kingdom, and are a major force in many other countries as well.
You seem in such a hurry to live this kind of life
And you've caused so many pain and misery
But look around you, take a good look
Just between you and me
Are you sure that this is where you want to be
Please don't let my tears persuade you, I had hoped I wouldn't cry
But lately, teardrops seem a part of me
Oh, look around you, take a good look
At all the local used-to-be's
Are you sure that this is where you want to be
Willie Nelson