Posts Tagged 'acorns'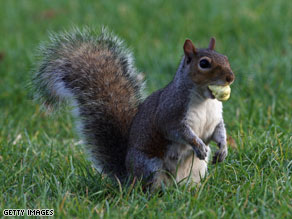 Up and down the East Coast, residents and naturalists alike have been scratching their heads this autumn over a simple question: Where are all the acorns?
Oak trees have shed their leaves, but the usual carpet of acorns is not crunching underfoot….
Virginia extension agent Adam Downing said acorn production runs in cycles, so a lean year is normal after a year with a big crop.
"It fits with the physiology of seed reproduction. The trees are exhausted, energy wise, from last year," Downing said.
But even he is surprised at the complete absence of nuts in parts of Virginia….
It's also hard to think of acorns without thinking about squirrels. What happens to them when their favorite food disappears? Some Eastern Seaboard residents have reported seeing skinny, aggressive squirrels devouring bird feed.
I have spent a few years living with and daily observing squirrel communities.  Though I am concerned, I'm skeptical of anecdotal evidence of squirrels dying off from lack of acorns.  A squirrel's diet can be very varied.  Often when feeding nuts, I have observed a squirrel take a time-out to go eat a mushroom, dig up some vegetation, and so forth.  They are very resourceful, very adaptable, very smart.  I'm more worried when the hurricanes come.  Then, the rehabbers weep.

Oh.. and, uh, they love bird feed.