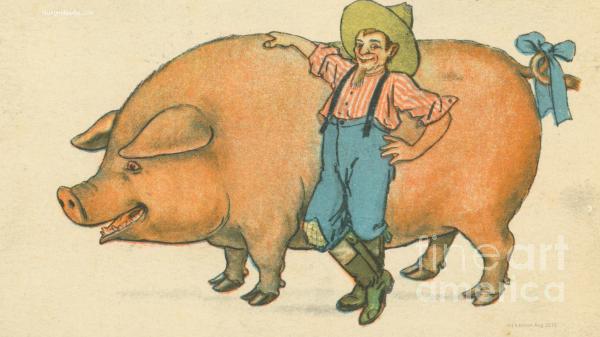 U.S. pork and beef exports to Russia could come to a halt on Saturday following Moscow's requirement that the meat be tested and certified free of the feed additive ractopamine…

The move could jeopardize the more than $500 million a year in exports of U.S. beef and pork to Russia…
The United States asked Russia, the sixth-largest market for U.S. beef and pork, to suspend the requirement even as it warned domestic meat companies that Moscow might reject their pork shipments that contained ractopamine and stop buying pork from processing plants that produced pork with the drug.

Ractopamine is used as a feed additive to make meat leaner, but countries such as China have banned its use despite scientific evidence that it is safe…
The U.S. Meat Export Federation told its members by email that since the U.S. Department of Agriculture had no testing and certification program in place for ractopamine, the Russian requirement could effectively halt U.S. pork and beef exports to the country by Saturday…
The USDA's Food Safety and Inspection Service, in a note posted on its website on Friday afternoon, said: "Exporters are cautioned that Russia may reject U.S. pork shipments and delist producing establishments if ractopamine residues are detected in exported product."

FSIS also said at the moment it was not requiring meat companies for documentation attesting their pork was free of ractopamine before issuing its export certification.
Are there requirements for measuring ractopamine sold for consumption to Americans, eh?
Analysts said the Russian move was linked to the Senate's passage of the trade bill and blah, blah, blah…

Tyson Foods…a leading U.S. meat company, and agriculture powerhouse Cargill…declined to comment on how a halt in exports would impact them, but both noted the U.S. and Russian governments were in discussions.
Yes, there are 100 countries including the European Union rejecting pork with ractopamine residues. Mother Jones wrote a delightful article in February when Taiwan rejected US shipments – entitled "US Pushes the World to Import Our Dodgy Meat" – and if you'd like some delightful midnight snack reading matter, try this report from the USDA describing the symptoms of some pigs tested with the stuff.
As the mortgage market grew frothy in 2006 — leading to a housing bubble that nearly brought down the banking system two years later — ratings agencies charged with assessing risk in mortgage pools dismissed conclusive evidence that many of the loans were dubious, according to testimony given last week to the Financial Crisis Inquiry Commission.
The commission, a bipartisan Congressional panel, has been holding hearings on the origins of the financial crisis. D. Keith Johnson, a former president of Clayton Holdings, a company that analyzed mortgage pools for the Wall Street firms that sold them, told the commission that almost half the mortgages Clayton sampled from the beginning of 2006 through June 2007 failed to meet crucial quality benchmarks that banks had promised to investors.
Yet, Clayton found, Wall Street was placing many of the troubled loans into bundles known as mortgage securities.
Mr. Johnson said he took this data to officials at Standard & Poor's, Fitch Ratings and to the executive team at Moody's Investors Service.
"We went to the ratings agencies and said, 'Wouldn't this information be great for you to have as you assign tranche levels of risk?' " Mr. Johnson testified last week. But none of the agencies took him up on his offer, he said, indicating that it was against their business interests to be too critical of Wall Street…
According to testimony last week, from January 2006 to June 2007, Clayton reviewed 911,000 loans for 23 investment or commercial banks, including Citigroup, Deutsche Bank, Goldman Sachs, UBS, Merrill Lynch, Bear Stearns and Morgan Stanley.
The statistics provided by these samples, according to Mr. Johnson and Vicki Beal, a senior vice president at Clayton who also testified before the inquiry commission, indicated that only 54 percent of the loans met the lenders' underwriting standards, regardless of how stringent or weak they were.
RTFA. It's long, detailed – and an indictment of what happens when oversight and regulation is removed to satisfy free market rationales for a global group of greedy bastards.
Worth reading and repeating to Republican candidates for Congressional office who promise to do it all over again.
Electrification of the automobile is well underway, with the first mass produced cars expected to hit the roads later this year.
Predictions hinge on cost to consumers, both for the cars and for gas. Other than for early adopters, plug-in cars must offer better cost of operation than gas-powered cars to win in the marketplace…
Which isn't true, of course. Otherwise no one would buy half the cars on sale – which are more expensive than the "other" half.
Reports predicting low EV sales volumes often use $1000 per kwh as the price for lithium-ion batteries, but that is unrealisticly high and should no longer be used.
A new report issued by Deutsche Bank indicates prices that are considerably lower. They write "we continue to believe that the market underestimates the potential for growth in this segment" and "we've noted evidence of steeper than-expected battery price declines which will likely bolster the consumer value proposition and potentially lead to stronger demand than we originally envisioned."
The firm notes the average lithium-ion cell price in 2009 has been $650 per kwh, but claims automakers are already seeing bids for $450 per kwh from battery companies for delivery contracts in the 2011/2012 timeframe.
Furthermore, they predict an additional 25% decline in price over the next 5 years and a 50% decline over the next 10 years along with a doubling of performance over the next 7 years…
Fuel costs about 2 cents per mile using electricity, and about 10 cents per mile using gas. At $450 per kwh at today's gas prices, after 90,000 miles of electric driving fuel savings will cover the added cost of the battery.
Payback is one of those arguments needed to convince spouses and banks. Nothing rational will convince teabaggers or politicians owned lock, stock and barrel by the Oil Patch Boys.