Posts Tagged 'appears'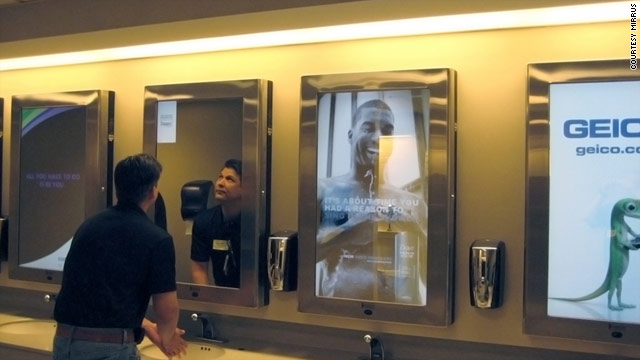 The idea is this:
When a traveler walks into an airport restroom, he or she will see, over the sinks, where the mirrors are expected to be, big, vertical display ads for products. Some of the ads are still images; some are moving videos.
When the traveler walks to the sink to wash his or her hands, the ads become mirrors — except that in front of the traveler's eyes the advertisements grow smaller, and move up to a corner of the mirrors.
Thus, the traveler is looking at his or her own face in the mirror, and also at the advertisement.
"We have chosen to be in bathrooms," said Brian Reid, the founder and president of Mirrus, the Huntersville, North Carolina, company that manufactures and markets the mirrors. "Bathrooms are often the last places people stop before they board an airplane, and the first places they visit when they get off an airplane…"
While the traveler is looking both at himself or herself, and at the ad in the corner of the mirror, "We track in real time how long [the traveler] is standing there," to determine how long the ad is being seen.
There is no camera inside the mirrors, he said, so no one at a remote location is looking at the person in the restroom. The sensors track only which advertisements are being seen, how many times, and for how long.
Extra creepy!

At left, Jesus appears eager and willing to do more laundry. At right, woman
shows us her iron while Jesus proudly looks on.
"I didn't panic," [Mary Jo] Coady told the Herald. "I was carrying the laundry, looked down at the iron and there was the image of Jesus. I picked it up and asked my daughters to take a look at it to make sure I wasn't crazy."…
My faith was down, but seeing this made me think, wow, Jesus is there."
To me, it looks more like René Descartes. But I'm probably just in denial.