I've had enough of Rick Perry.
At least the Perry who stood on the steps of the Texas Capitol today bashing our federal government and talking openly about Texas seceding from the United States…
Perry's always been a conservative, but that isn't the issue. He's a demagogue now, and every single newspaper in Texas with a decent editorial page should denounce these remarks and call for him to retract them publicly or resign…
Partisanship and political philosophy aside, I can think of few things more irresponsible in this economy than the governor of Texas speaking freely about secession. What business is going to relocate to Texas with him talking like that? Who wants to come to a state to do research at its large land grant universities with a governor who sounds like George Wallace or Lester Maddox naming the regents.
Do you think Perry is serious? Or is he just another right-wing nutball pandering to what remains of the Republican base?
And then there is…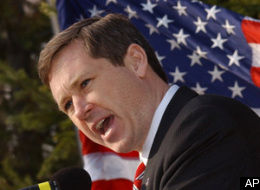 Republican Congressman Mark Kirk, who says he will decide by the end of the month whether to run for either the U.S. Senate occupied by Roland Burris or Illinois governor, vented his anger over Gov. Pat Quinn's tax hike proposal to the Chicago's Tribune's Rick Pearson:
"I think that the decision to raise taxes by 50 percent in Illinois is political suicide," Kirk said of Quinn's proposal to raise the tax rate to 4.5 percent from 3 percent, coupled with an increase in the personal deduction. "I think the people of Illinois are ready to shoot anyone who is going to raise taxes by that degree."
Is this just political rhetoric? Or is the Republican Party becoming the party of insurrection?
Of course, closer to reality, the governor working hardest at taxing Internet users is Haley Barbour the Republican governor of Mississippi.

Prison de Varces
An inmate in a French prison has been shot dead by a sniper from outside the jail, officials say. They say another prisoner was injured in the same shooting in the south-eastern town of Varces.
The suspected gunman was arrested shortly afterwards with his gun still hot, French Justice Minister Rachida Dati says. It is the first time in France that a prisoner has been killed from outside the jail, Ms Dati says.
Five shots were fired at the exercise yard of the jail, officials say.
The prisoner who was killed was about to be questioned in a murder case, Ms Dati says. The man…also had links to organised crime.
Ms Dati says the suspected gunman is being held in custody.
Phew! You can't even be safe from violence when you're in prison.
But, seriously – must have been some serious time pressures to result in such an impetuous assassination. Like the imminent questioning.