Posts Tagged 'awarded'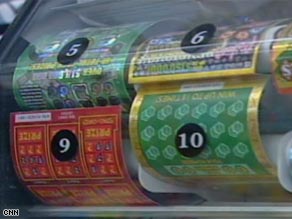 When Scott Hoover bought a $5 scratch-off ticket in Virginia called "Beginner's Luck" last summer, he carefully studied the odds. Even though he figured his chances of winning were a long shot, he felt the odds were reasonable.
Hoover, a business professor at Washington and Lee University in Virginia, wasn't surprised when his tickets didn't bring him the $75,000 grand prize, but he was shocked to learn the top prize had been awarded before he bought the ticket.
"I felt duped into buying these things," Hoover said.
He discovered the Virginia State Lottery was continuing to sell tickets for games in which the top prizes were no longer available. Public records showed that someone had already won the top prize one month before Hoover played. He is now suing the state of Virginia for breach of contract.
Through a request filed under the Freedom of Information Act, Hoover's lawyer was able to obtain records that showed the Virginia State Lottery sold $85 million in tickets for which no top prize was available…
Apparently, half the 42 states selling scratch-off lottery tickets will sell them even if the advertised big payoff has already been won.