Posts Tagged 'Budweiser'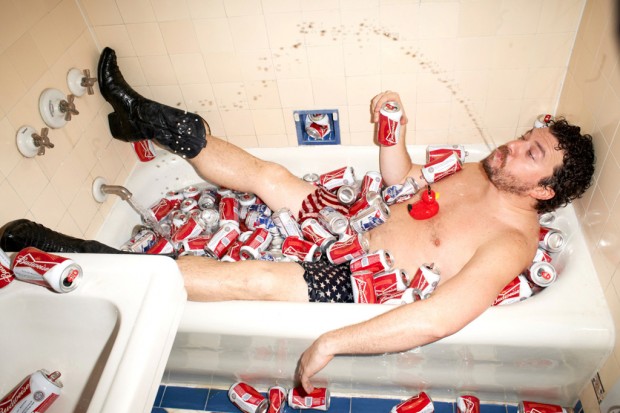 Nationwide, roughly a third of all visits to emergency rooms for injuries are alcohol related. Now a new study suggests that certain beverages may be more likely to be involved than others.

The study, carried out over the course of a year at the Johns Hopkins Hospital in Baltimore, found that five beer brands were consumed most often by people who ended up in the emergency room. They were Budweiser, Steel Reserve, Colt 45, Bud Ice and Bud Light.
Three of the brands are malt liquors, which typically contain more alcohol than regular beer. Four malt liquors accounted for nearly half of the beer consumption by emergency room patients, even though they account for less than 3 percent of beer consumption in the general population.

Previous studies have found that alcohol frequently plays a role in emergency room admissions, especially those stemming from car accidents, falls, homicides and drownings, said the lead author of the study, David H. Jernigan of the Johns Hopkins Bloomberg School of Public Health. The new study, published in the journal Substance Use and Misuse, is the first to look at whether certain brands or types of liquor are overrepresented.
No doubt there will be a specific niche libertarian who will declaim publication of this information as interfering with his freedom of choice. Choice to be a danger to his fellow humans.
Anheuser-Busch InBev NV (ABI), the world's biggest brewer, was sued by consumers in three U.S. states for allegedly overstating the alcohol content in its Budweiser beer.

AB InBev's St. Louis-based Anheuser-Busch Cos. routinely adds extra water to its finished products to produce malt beverages with significantly less alcohol content than displayed on its labels, violating state statutes on consumer protection, according to a complaint filed yesterday in federal court in Philadelphia. Similar lawsuits were filed in federal courts in New Jersey and San Francisco.

"AB's customers are overcharged for watered-down beer and AB is unjustly enriched by the additional volume it can sell," Thomas and Gerald Greenberg said in the Philadelphia complaint…
The claims against Anheuser-Busch are "completely false," Peter Kraemer, the company's vice president of brewing and supply, said in an e-mail…"Our beers are in full compliance with all alcohol labeling laws," Kraemer said….
The complaints accuse the AB InBev unit of also mislabeling the amount of alcohol in Bud Ice, Bud Light Platinum, Michelob, King Cobra, Busch Ice, Black Crown, Bud Light Lime, Hurricane High Gravity Lager, Natural Ice and Michelob Ultra.

Josh Boxer, an attorney for plaintiffs in California, said additional lawsuits will be filed against the company in Ohio and Colorado. The California complaint, filed by Sonoma County residents Nina Giampaoli and John Elbert, seek to represent consumers in the state and consumers nationwide who have purchased AB InBev products in the past five years. All three complaints seek damages exceeding $5 million.

Total damages "could be quite significant based on the volume of products that AB produces a year," Boxer said…
You betcha!
AB InBev allegedly keeps the alcohol level for each batch of malt beverage at specifications above the desired final product at least initially then adds water and CO2 to the final stage of the brewing process, according to the complaint.

The company began using in-line alcohol measuring instruments known as Anton Paar meters that can measure the alcohol content in malt beverages to within hundredths of one percent, according to the complaint. AB allegedly uses the precision technology to shave the alcohol content instead of providing consumers with a product based on the stated label, the Greenbergs said in the complaint.

Adding water to the brewing process cuts the stated alcohol content by 3 to 8 percent, Boxer said.
Budweiser announced the takeover move by InBev in 2006 – which was completed in 2009. Beaucoup Budweiser fans worried about an even larger corporate entity screwing with their favorite beer. I not only don't drink anything from either, I don't think anyone in my family does either. So, we never especially worried about their business ethics except within the context of marketing. Like could they screwup the English Football Association even more than the Brits managed to on their own?
Still, there is nothing more classic about capitalism than some scumbag "watering the beer" to increase profits. Should be an interesting case to follow.

Is NASCAR ready for this?
Anheuser-Busch…has entered talks that could see Belgian rival InBev announce a takeover in the next few days, according to reports in the United States.
St Louis-based Anheuser is said to have abandoned its opposition to the deal after InBev raised its offer from $65 a share to $70, valuing the business at more than $50 billion.
The takeover proposal has sparked uproar among customers and politicians at home who want the classic American brand to stay in US hands. Many people in St Louis fear job losses and the end of the brewer's longstanding support for local charitable and civic projects.
Some large shareholders in Anheuser though, including the billionaire investor Warren Buffett, who owns 5%, are understood to have put pressure on the brewer's management to do a deal.
Some American brand names are still worth something – to someone.
And, according to the Wall Street Journal, it's a done deal.