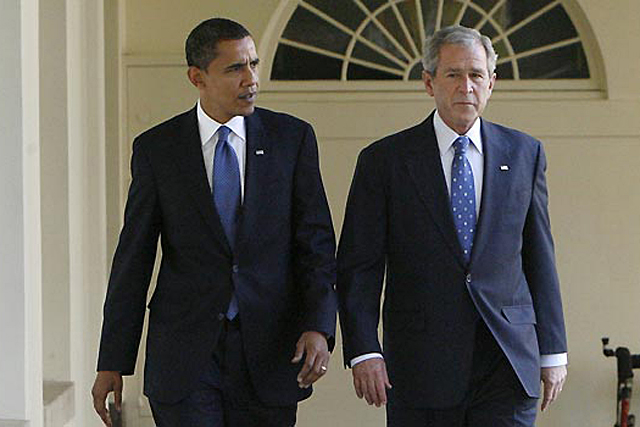 Respect for Freedom of the Press? Same as it ever was.
The New York Times reporter James Risen, who faces jail over his refusal to reveal a source and testify against a former CIA agent accused of leaking secrets, has called President Barack Obama "the greatest enemy of press freedom in a generation".

Speaking to his colleague Maureen Dowd, Risen accused the president of aggressively pursuing journalists, including himself, who report sensitive stories that reflect poorly on the US government…
Risen faces jail over his reporting of a botched intelligence operation that ended up spilling nuclear secrets to Iran. The Justice Department has long been seeking to force him to testify and name the confidential source of the account, which is contained in his 2006 book State of War…
The pursuit of Risen began under the administration of President George W Bush. The Justice Department tried to prosecute him under the Espionage Act for his 2006 Pulitzer Prize-winning scoop about the illegal wiretapping of American citizens after the terrorist attacks of 11 September 2001. It also targeted him for the revelations in State of War…
Risen is furious at statements from the likes of Obama and the attorney general, Eric Holder, about supporting press freedom – including condemnation of the police in Ferguson, Missouri, for this week arresting journalists reporting on riots there.

Obama and Holder said journalists should not be arrested or harassed for doing their jobs and covering "a story that needs to be told". In May, Holder said of the Sterling case: "No reporter who is doing his job is going to go to jail." Risen, however, could be behind bars within weeks…
"It's hypocritical," Risen said. "A lot of people still think this is some kind of game or signal or spin. They don't want to believe that Obama wants to crack down on the press and whistleblowers. But he does. He's the greatest enemy to press freedom in a generation."
I'm certain you're all keeping up-to-date on this case in the mainstream media and on your local network TV stations, eh?