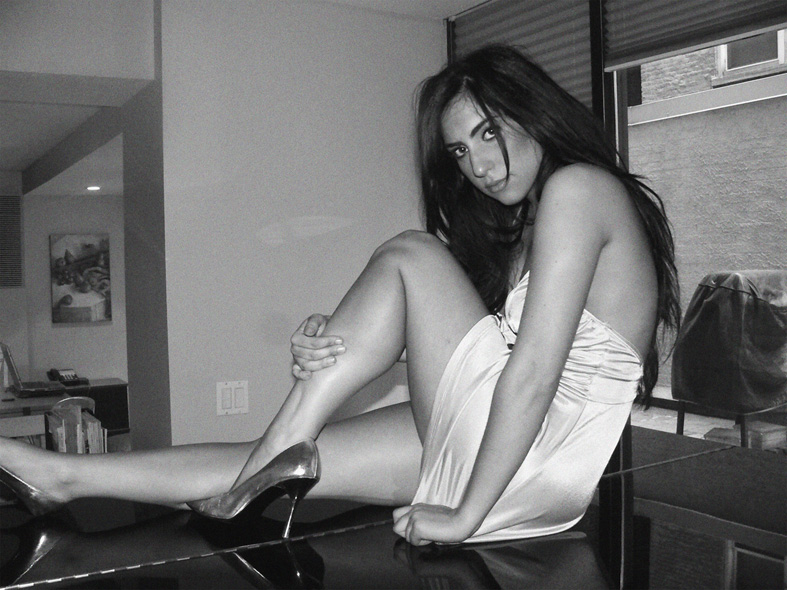 Click on photo to access series
…Before the world tours, "The Fame" or even the dress made of meat, photographer Malgorzata Saniewska knew her simply as her restaurant co-worker, Stefani Germanotta.
In the summer of 2005, Saniewska, who goes by Maggie, happened to be tending bar at the same West Village restaurant where the 19-year-old soon-to-be star worked as a waitress.
Just 24 at the time, Saniewska had moved from her native Poland to the United States two years prior with dreams of becoming a photographer.
But to support herself, "I started working as a bartender," she recalled. "It was definitely a money thing. I did want to go to school, but I didn't do research on photography, my focus was to make better money…"
"We were colleagues, we didn't hang out really heavily, but she's the nicest girl ever. … She's down-to-earth," Saniewska said. "At that time, she gave me a CD of her first single, and I listened to it and I was really impressed. And she's a beautiful girl. Based on her looks and her personality I thought (a photo shoot) would be great fun."
Gaga had the perfect location in mind: Her parents' place on the Upper East Side…
The two young women hopped on a train and headed over there, and set to work creating what Saniewska says became Lady Gaga's first photo shoot, although Saniewska didn't know that at the time.
Good photographer's eye for a subject. Her technique was rough in spots; but, cripes, she was just starting out, too.
Daylife/AP Photo used by permission
Scientists claim to have created human sperm for the first time, in a breakthrough they say could lead to new treatment for male infertility.
The sperm was grown in a laboratory in Newcastle from embryonic stem cells. Led by Professor Karim Nayernia, researchers developed a method of growing early-stage sperm from human embryonic stem cells by using retinoic acid, a vitamin A derivative…
Nayernia, of Newcastle University and the North East England Stem Cell Institute (Nesci), described the cells as "fully mature, functional" sperm, which he called In Vitro Derived (IVD) sperm.
He said: "This is an important development as it will allow researchers to study in detail how sperm forms and lead to a better understanding of infertility in men – why it happens and what is causing it…
"It will also allow scientists to study how cells involved in reproduction are affected by toxins, for example why young boys with leukaemia who undergo chemotherapy can become infertile for life – and possibly lead us to a solution…"
Professor Robin Lovell Badge, from the Medical Research Council Institute of Medical Research…questioned the findings, saying that "they need much better evidence that such in-vitro derived sperm are normal" but added that any progress by the team "will be very important for research" and "ultimately, although definitely not yet, fertility treatments".
Nayernia responded by saying that his research paper was clearly labelled a "proof of principle" which concludes that it is in its early stages and further research is needed. He said: "We are not claiming this research is complete but we are saying that we have found human sperm."
Of the hundreds of news reports on this study, I happened to choose this one from The Guardian. For two reason:
1. They didn't waste time and space on religious wingnuts who will lose sleep over the "soul" of critters produced by this sperm – or the usual array of quasi-ethical crap questions about humans and monsters. The nutball brigade will take care of that on their own, thank you.
2. The Guardian actually reported responsible questions [and answers] from those qualified by virtue of trying to advance the science – instead of playing at skeptic for media perks.
The single worst discussion I've seen was on CNN, this morning – where an anchor-lady ventured discourse with a science-lady about how the ongoing experiments affected "girl mice" and "mice children".
Where the frack is Miles O'Brien when you need him?
UPDATE: The journal article has been withdrawn over questions of attribution of part of the introductory text. None of the science has been questioned or removed. It will be rewritten and published again.