Most Americans probably aren't aware of the growing scandal involving one of the leading UK newspapers owned by that idol of journalism, Rupert Murdoch. It's called illegal wiretapping.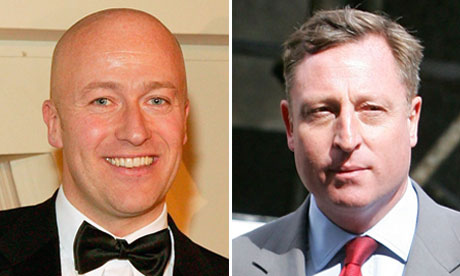 Ian Edmondson, left, and Neville Thurlbeck
The former news editor and current chief reporter from the News of the World are in police custody after being arrested on suspicion of unlawfully intercepting mobile phone voicemail messages…
"They remain in custody for questioning after being arrested on suspicion of conspiring to intercept communications, contrary to Section 1(1) Criminal Law Act 1977, and unlawful interception of voicemail messages, contrary to Section 1 Ripa [Regulation of Investigatory Powers Act] 2000," the briefing added…
The arrests are the first salvo in Operation Weeting, whose tasks include establishing whether there are grounds for bringing further prosecutions in the phone-hacking scandal.
Edmondson and Thurlbeck will probably be released later this afternoon after the search of their homes is complete.
The two men have been implicated in the long-running scandal through documents seized from Glenn Mulcaire, the private investigator employed by the newspaper…
Only one reporter, the former royal editor Clive Goodman, has been convicted of a crime as part of the scandal. He and Mulcaire were sentenced to jail terms in January 2007.
No other reporters or executives were questioned by the initial police investigation. It was only after a series of high court cases brought by the actor Sienna Miller, the football pundit Andy Gray and others that the Metropolitan police were forced to reveal material found on Mulcaire's computer, during a 2006 raid of his home.
Last Friday, a high court judge ordered NoW to make available Mulcaire's notes to the growing list of people suing the paper. Justice Geoffrey Vos, who is in charge of the hacking cases, ordered "rolling disclosure" to all claimants.
Hundreds of thousands of emails will now be handed over to alleged victims.
Rupert's NewsCorp says they're cooperating willingly with the police investigation. Five years after the initial arrests and denials that anyone remaining at the newspaper could possibly have been involved in the illegal electronic snooping on celebrity mobile phones.
UPDATE: Senior Journalist James Weatherup is a 3rd arrest in this case.