The Government Accountability Office Punk'd Energy Star recently by submitting fake products and companies for certification. The Environmental Protection Agency's arbiters of efficiency standards rubber-stamped 15 out of 20 bogus products and a handful of fake firms became Energy Star Partners. Here are three of our favorite fabrications.
1. Tropical Thunder Appliances
To perform this investigation, the Government Accountability Office's (GAO) March 26, 2010, report states that it "used four bogus manufacturing firms and fictitious individuals to apply for Energy Star partnership…"
Dummy websites emblazoned with Energy Star Partnerships remain online for each of the four front companies—Cool Rapport (HVAC equipment), Futurizon Solar Innovations (lighting), Spartan Digital Electronics, and Tropical Thunder Appliances.
2. The Feather-Duster Fly-Strip Air Freshener
Ostensibly an indoor air purifier, this item is actually a standard space heater spangled in strips of flypaper, with a feather duster perched up top.
The product was submitted without a standard safety file number from the Underwriters' Laboratories. Plus, the product's website did not include a disclaimer required for Energy Star certification. Last but not least, the garish photo submitted with the product's application portrays what is clearly a feather duster rigged to space heater. Nevertheless, these obstacles proved surmountable—the product was approved in 11 days and became listed on the Energy Star website…
3. The Gasoline-Powered Alarm Clock
On the application for Energy Star certification, this product's description stated that "the item is the size of a small generator and is powered by gasoline." The GAO never devised an image of this piece of nonexistent indoor power equipment, which would presumably make enough noise to temporarily wake consumers before carbon monoxide fumes sent them back to sleep for good. The dimensions are listed as 18 inches tall, 15 inches wide and 10 inches in depth. "Gas-powered clock radio is sleek, durable, easy on your electric bill, and surprisingly quiet," the product's marketing description states.
All were approved!
BTW – I don't think anyone in our federal government gets to have more fun than GAO investigators.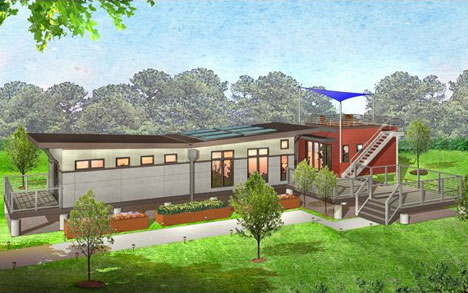 From its bamboo floors to its rooftop deck, Clayton Homes' new industrial-chic "i-house" is about as far removed from a mobile home as an iPod from a record player…
With a nod to the iPod and iPhone, Clayton said, "We love what it represents. We are fans of Apple and all that they have done. But the 'I' stands for innovation, inspiration, intelligence and integration."
Clayton's "i-house" was conceived as a moderately priced "plug and play" dwelling for environmentally conscious homebuyers. It went on sale nationwide Saturday with its presentation at the annual shareholders' meeting of investor Warren Buffett's Berkshire-Hathaway Inc. in Omaha, Neb.
"This innovative 'green' home, featuring solar panels and numerous other energy-saving products, is truly a home of the future," Buffett wrote his shareholders. "Estimated costs for electricity and heating total only about $1 per day when the home is sited in an area like Omaha…"
A 1,000-square-foot prototype unveiled at a Clayton show in Knoxville a few months ago was priced at around $140,000. It came furnished, with a master bedroom, full bath, open kitchen and living room with Ikea cabinetry, two ground-level deck areas and a separate "flex room" with a second full bath and a second-story deck covered by a sail-like canopy…
The "i-house's" metal v-shaped roof — inspired by a gas-station awning — combines design with function. The roof provides a rain water catchment system for recycling, supports flush-mounted solar panels and vaults interior ceilings at each end to 10 1/2 feet for an added feeling of openness.
The Energy Star-rated design features heavy insulation, six-inch thick exterior walls, cement board and corrugated metal siding, energy efficient appliances, a tankless water heater, dual-flush toilets and lots of "low-e" glazed windows.
This has to be great for folks who live somewhere with affordable land – just starting out as homeowners. If you're not a mad owner-builder [common to my extended family] you can come up with an energy-star-rated home that makes all kinds of environmental sense.