Crops grown for food (green) versus for animal feed and fuel (purple)
Just 55 percent of the world's crop calories are actually eaten directly by people. Another 36 percent is used for animal feed. And the remaining 9 percent goes toward biofuels and other industrial uses…

The proportions are even more striking in the United States, where just 27 percent of crop calories are consumed directly — wheat, say, or fruits and vegetables grown in California. By contrast, more than 67 percent of crops — particularly all the soy grown in the Midwest — goes to animal feed. And a portion of the rest goes to ethanol and other biofuels.
Some of that animal feed eventually becomes food, obviously — but it's a much, much more indirect process. It takes about 100 calories of grain to produce just 12 calories of chicken or 3 calories worth of beef, for instance.
The map itself comes from Jonathan Foley's fascinating, visually rich exploration in National Geographic of how we can possibly feed everyone as the world's population grows from 7 billion today to 9 billion by mid-century…

There are lots of possible strategies here. Farmers could increase agricultural productivity by boosting crop yields — either through new farming techniques or through improved crop genetics. But even if the rapid rate of improvement in crop yields over the 20th century continued, that still wouldn't produce enough food for everyone…
One implication of that is that, as countries like China and India grow and consume more milk and meat, the pressure on global farmland will grow. But, alternatively, if the world shifted even a small portion of its diet away from resource-intensive meats or grew fewer biofuels, we could wring more food calories out of existing farmland.
There are many more strategies – which almost always fall under the category of tweaks. Poisonally, I'd rather see the production of flavorful vegetable-based protein continue to move forward, become practical and affordable. Yes, flavorful means "tastes like meat, tastes like chicken, tastes like fish".
I think philosophical discussions about the life and death of animals that evolved along omnivore humans won't change public opinion anymore in the next couple of centuries than was achieved in the last couple. Make veggie-based stuff that consumes fewer calories of potential energy and tastes like the stuff we grew up consuming, furry, finned or feathered – and costs less – and you have a winner.
Fortunately, there are a number of folks working on that. That's the side I'm on.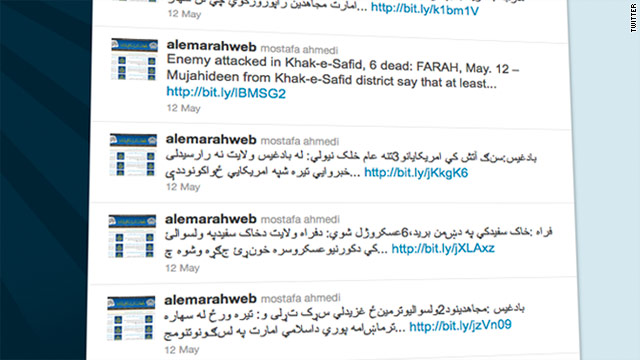 The Taliban have long been known as haters of modern technology, certainly the kind that comes out of the Western world they revile.
Now, they're on Twitter, and as of this week, even tweeting in English.
The account, @alemarahweb, links back to the Taliban's website, Islamic Emirate of Afghanistan, which is the name they use for themselves. Most of the tweets on the account, which was created on December 19, are written in Pashto, the native language in parts of Afghanistan.
As The Guardian, the UK publication, noted, the feed had fewer than 1,000 followers as of Thursday. The addition of English, as well as the media reports about it, have more than tripled that total to over 3,000 as of Friday morning.
The feed appears almost entirely made up of links to the Taliban website. The English-language posts appear to be wildly exaggerated claims of attacking and killing NATO and U.S. troops and Afghan government personnel.
If the tweets were to be believed, 81 "enemy" troops were killed since the feed began publishing in English on Thursday. A U.S. spy plane, and 23 vehicles, including five U.S. tanks, also were destroyed by Taliban attacks, according to the tweets.
Military and news reports do not support anything approaching those claims.
I'd say this alternates between hilarious and thoroughly dumb. I doubt if it carries odds of growing their support at roughly a hundredth of that enjoyed by the average religious nutball who leaves their sect's newsmagazine rolled up and stuck into the top of our front gate.
Police in Masaka, Uganda, have arrested two nuns for allegedly participating in growing marijuana.
The two nuns, who had declined to reveal their identities to the Police, were picked from Bwanda Convent in Masaka district, where the Police found a banana plantation full of the illegal crop…
However, there was a scuffle when Sister Nanteza attacked the Police, accusing them of entering the convent without permission.
"You bypassed us without saying anything. What if you got a problem here, whose fault would it be?" Sister Nanteza asked Byaruhanga and other Police officers.
The officers said they were fully armed and expected less resistance from the religious women…
Sister Rita told Byaruhanga that the marijuana was not for sale, but for treating farm animals, particularly pigs.
Pork – the other, uh…I forget.