Posts Tagged 'FIA'

Jean Todt and one of the chauffeurs who endorsed him
Jean Todt will succeed Max Mosley as the new head of motorsport's world governing body, the FIA, after winning the presidential election in Paris…
The vote brings an end to Mosley's controversial 16-year reign.
Mosley had agreed he would not stand for a fifth term as president as part of a peace deal struck in July to end the threat of a breakaway championship by Formula 1 teams.
Among Todt's proposals is the introduction of a new commissioner to oversee the running of F1, as well as the other FIA championships.
The Frenchman also wants to examine improvements to the stewards' decision-making process.
"As the regulator of a hugely competitive and technically complex sport we will also establish an independent disciplinary panel to investigate breaches of the rules and to recommend the most appropriate response."
Mosley's presidency has become identified with a period of political strife in F1, with a series of damaging rows in recent years…
What little Moseley accomplished was negated by the expense of his impulsive annual changes – always characterized by his excuse that they would make every aspect of motorsport more exciting for the fans. Which is patently absurd. The excitement drew from the drivers and technicians of the sport getting round his crap, most of the time.
I've always felt he was obsessively dedicated only to his own petty self-image. His sexual pecadilloes seem to reinforce that aspect of his personality.
What I find interesting is Todt's concept of commissioners dedicated to standalone divisions, e.g. F1, WRC, etc.. It's rumored his choice for Formula One is Michael Schumacher. Which ain't half-bad in anyone's book.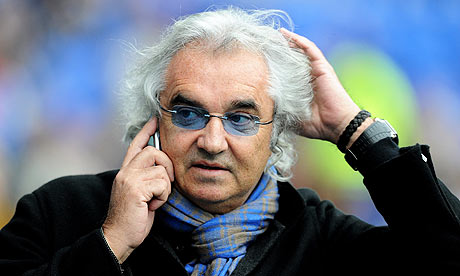 Hey, at least QPR is in the top half of the table…
Renault have today joined forces with Ferrari by confirming their intention to withdraw from the 2010 formula one world championship unless recently-adopted regulations are revised. The motor sport's world governing body, the FIA, and its president Max Mosley, now face critical talks with all the teams if they are to save the sport.
The Renault president, Bernard Rey, said: "We remain committed to the sport, however we cannot be involved in a championship operating with different sets of rules, and if such rules are put into effect, we will be forced to pull out at the end of this season."
The Renault team boss, Flavio Briatore, added: "Our aim is to reduce costs while maintaining the high standards that make formula one one of the most prestigious brands on the market. We want to achieve this in a co-ordinated manner with the regulatory and commercial bodies, and we refuse to accept unilateral governance handed out by the FIA. If the decisions announced by the World Council on the 29th of April 2009 are not revised, we have no choice but to withdraw from the FIA formula one world championship at the end of 2009."
If Mosley and Bernie don't get their act together, I presume the manufacturers will pull together their own series of circuits and racing schedule – and that's that.
Most lifetime gearheads like me will follow the talent – not the bureaucrats.
Conspiracy, controversy, confusion. Perhaps Formula One should be re-named Formula Con.
The fall-out from Sunday's Belgian Grand Prix has sparked outrage, anger, widespread debate, leading to an appeal which means the race will now be won or lost in some London law firm's office.
Without a shadow of a doubt, that is wholly unsatisfactory, and not the way one of the most enthralling, dynamic finishes to a race for many a year should be concluded.
That's how Ian Parkes led off his column on the Spa debacle. I've followed Formula 1 since Day 1, I'm the sort of maniac motorsports fan who has slept [or tried to] alongside the beginning of the Mulsanne Straight, camped out at Lime Rock for Opening Day.
My feelings run deeper than many – and I'm tired of trying to keep up with bureaucrats fiddling with specifications and race results the way Bernie diddles the taxman. It's over.
Someone mail me a penny postcard when Formula 1 becomes a motorsport, again.