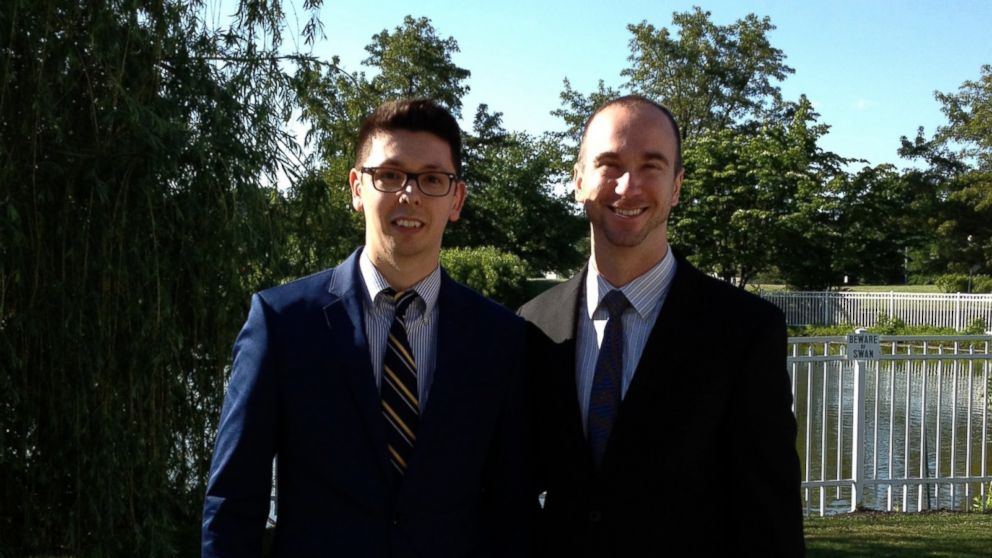 Vincent Giannetto and his partner Michael Griffin
A gay teacher says he was fired from his job at a suburban Philadelphia Catholic school after applying for a marriage license with his partner.

Officials at Holy Ghost Preparatory School in Bensalem said Michael Griffin, who taught Spanish and French at the private all-boys school until he was fired Friday, had violated his contract when he applied for a marriage license with his same-sex partner in New Jersey.
"Today I applied for a marriage license since NJ now has marriage equality," Griffin posted on his Facebook page. "After 12 years together I was excited to finally be able to marry my partner. Because of that, I was fired from Holy Ghost Preparatory School today. I am an alumnus of the school and have taught there for 12 years. I feel hurt, saddened, betrayed and except for this post, am at a loss for words."

Griffin said he had sent an email to school administrators informing them of his intentions, not expecting to be terminated given that his relationship had not been a secret among school faculty and staff, WCAU-TV, Philadelphia, reported.

"I've been with my partner for more than 12 years, the entire time I've been teaching at the school," Griffin told the TV station. "He's been to numerous school functions with me…"
The Rev.James McCloskey, the school's headmaster, confirmed in a statement that Griffin was fired over his application for a same-sex marriage license…"…this decision contradicts the terms of his teaching contract at our school, which requires all faculty and staff to follow the teachings of the church as a condition of their employment.
Of course, if state and federal courts, including the Supreme Court, had the courage to follow our Constitution, they would support the rule that contracts that violate state and federal law aren't legal and binding.
The crap "tradition" defense is as useless as any other line of bull from bigots. Cripes, I recall passage of the Civil Rights Law freeing up the trade union I belonged to at the time. The national union constitution only allowed the president to be white and male.
Republicans on the Supreme Court are as beholden to the "higher power" of bigotry as today's Roman Catholic church. Mail me a penny postcard when justice unexpectedly breaks out.