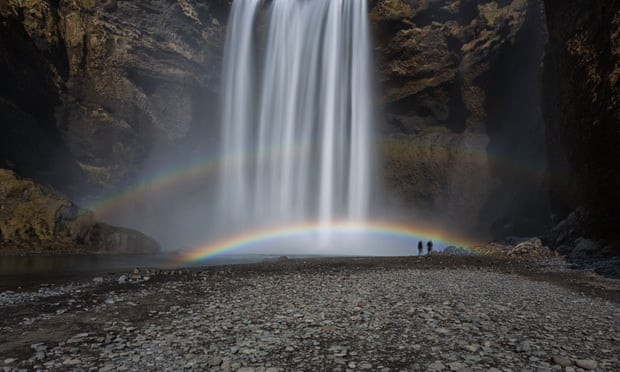 A double rainbow at Skogafoss waterfall in Iceland
Thousands of Icelanders have called on their government to take in more Syrian refugees – with many offering to accomodate them in their own homes and give them language lessons.
Iceland, which has a population of just over 300,000, has currently capped the number of refugees it accepts at 50.

Author and professor Bryndis Bjorgvinsdottir put out a call on Facebook on Sunday asking for Icelanders to speak out if they wanted the government to do more to help those fleeing Syria. More than 12,000 people have responded to her Facebook group "Syria is calling" to sign an open letter to their welfare minister, Eygló Harðar.
Speaking on Iceland's RÚV television, Bjorgvinsdottir said her country's attitude was being changed by the tragic news reports. "I think people have had enough of seeing news stories from the Mediterranean and refugee camps of dying people and they want something done now," she said…
Many of those posting on the group have said they would offer up their homes and skills to help refugees integrate. "I have clothing, kitchenware, bed and a room in Hvanneyri [western Iceland], which I am happy to share with Syrians," one wrote. "I would like to work as a volunteer to help welcome people and assist them with adapting to Icelandic society."

"I want to help one displaced family have the chance to live the carefree life that I do," another wrote. "We as a family are willing to provide the refugees with temporary housing near Egilsstaðir [eastern Iceland], clothing and other assistance. I am a teacher and I can help children with their learning."…
The Facebook Syrian letter says it best: "Refugees are our future spouses, best friends, or soulmates, the drummer for the band of our children, our next colleague, Miss Iceland in 2022, the carpenter who finally finished the bathroom, the cook in the cafeteria, the fireman, the computer genius, or the television host."
Would your city, your state, your nation do the same? Ot would it build a wall?