Posts Tagged 'harass'


Networking giant Cisco was blasted by a Canadian judge for arranging for the criminal arrest of a whistleblower who was suing the company.
Peter Adekeye launched an anti-trust case against his former employer in the US District Court for Northern California and was giving his deposition where he lived in Vancouver when four coppers entered the room and interrupted the hearing.
According to Ars Technica. Adekeye was jailed while the legal mess was sorted out. Part of the problem was that the highly expensive legal team for Cisco had done its best to convince the Canadian authorities that Adekeye was a "sinister" Nigerian on the run from 97 charges of illegal computer hacking…
US prosecutors invoked "emergency provisions" of the Extradition Act to obtain the arrest warrant…
When the extradition documentation actually arrived, the judge would discover that it was a pack of "innuendo, half truths, and complete falsehoods."
Throughout all of this, the judges and the Canadian legal system was apparently unaware that all the made-up crimes were part of the bigger anti-trust battle Adekeye was waging against Cisco…
Justice McKinnon was shocked that a trivial $14,000 civil case had been transformed into a criminal proceeding and engaged the full might and resources of two governments, with the aim of misleading one of Canada's senior trial courts.
Cisco allegedly engineered it so that the arrest took place in the presence of a US High Court Judge, Special Master, George Fisher, with Cisco's lawyers insisting on filming the entire arrest on the record. It was clearly an attempt to humiliate Adekeye and weaken his case.
McKinnon said that it all spoke "volumes for Cisco's duplicity".
What should be most alarming is that Cisco could use extradition laws and their buddies in the US government to have those who challenged their dominion locked up under American laws – in Canada.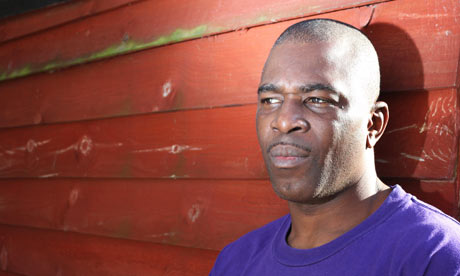 Ken Hinds
A black youth worker arrested and charged for watching at a distance as police detained a teenager at a London railway station is to receive an apology and £22,000 compensation from the British Transport police…
Fiona Murphy, of solicitors Bhatt Murphy, also condemned the BTP for failing to properly investigate the incident over a period of five years, and only settling when faced with a high court claim for false imprisonment and malicious prosecution. Incidents in which black men were arrested for no apparent reason remained "almost routine" despite decades of efforts to eradicate racism among police forces in London, she added.
Hinds was returning home from an Arts Council event in May 2004 and had arranged to meet his son, then aged 12, at Seven Sisters train station in north London. While waiting in the ticket hall, he saw a group of police arresting a young black man and stood where he could observe from a distance in case he was needed as a witness. He was then approached by another officer, from the BTP.
"He walked over and said: 'Do you know that young man?' I said no. He said: 'Fuck off, then. It's got nothing to do with you,'" Hinds said. After insisting calmly that he was within his legal rights to remain, Hinds was first threatened with arrest and then marched across the station in handcuffs by two BTP policemen…
"That is the disappointing thing about this," said Murphy. "Despite apologising to Mr Hinds, the BTP have demonstrated a complete unwillingness to investigate properly, mislaying CCTV footage of him in the station and failing even to try and track down the emails between the officers."
I guess he must consider himself lucky that it only took the BTP five years to own up to their racism and incompetence – and that the coppers in question weren't armed.
The police surveillance team had spotted their target: a 12-year-old boy with freckles and ginger hair. He was known to police for nuisance behaviour. They watched as he walked along a path with friends in the distance, before disappearing down a side street.
When the four boys emerged from the estate's maze of alleyways, the patrol car was waiting. "Is this that operation, sir?" said one boy. "I don't want to be on camera." He already was…
Officers target a hit list of individuals who are "known to police", and subject them to repeated surveillance. Last week the Guardian was given unprecedented access to the latest operation on the Five Links estate in Laindon, near Basildon.
For civil rights groups, the operation is an Orwellian technique that persecutes individuals who have committed no crime. But for police, the "in your face" approach works and, unlike covert surveillance, it requires no special authorisation.
Essex police claim there has been a "100%" drop in crime on target estates during recent operations. Their surveys indicate the so-called "harass a youth" strategy is popular in the community.
Some of the clever kids on the hit list have started filming the coppers – who are filming them. Which pisses them off pretty much the same as the kids.
Who knows where this all will end up, eh?