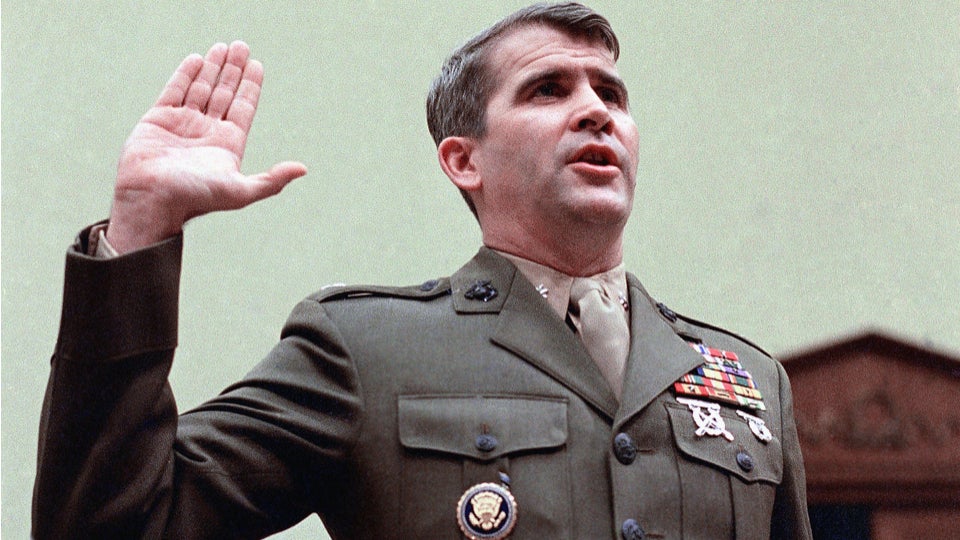 Republicans may call Ollie North to testify as an "expert"
On March 12, Gen. John F. Kelly, the commander of the United States Southern Command, alerted the Senate Armed Services committee to the growing threat posed by Iran. According to his statement, the Islamic Republic has "established more than 80 'cultural centers'" in Central and South America and the Caribbean — "a region with an extremely small Muslim population." The scare quotes signal that Kelly has seen right through the cultural façade to Iran's real project: terrorism sponsorship.

To close observers, Kelly's conspiracy theory will have a familiar ring. Conservatives have been warning us about the Iranian subversion of Latin America for years.
At a 2009 Congressional hearing, Norman A. Bailey — a veteran of Ronald Reagan's national security affairs — painted a grim picture of Iran's "penetration into the Western Hemisphere through Venezuela." Not only had the Iranians commandeered Venezuelan tractor and bicycle factories to store drugs, weapons "and other items useful to them and their terrorist clients," they had even "opened a 'maintenance' facility in Honduras for the 'tractors' produced in Venezuela."

As if this weren't enough, they had also established embassies in a smattering of Latin American nations…
Writing in Foreign Policy in 2010, the American Enterprise Institute's Roger Noriega — whose career highlights include involvement in the Iran-Contra scandal — said blah, blah, blah, de-blah, blah.
As might be expected, the hysteria is not limited to Americans. Israeli Deputy Foreign Minister Danny Ayalon once warned of the frightening existence of commercial air travel between Latin America and Iran: "We know that there are flights from Caracas via Damascus to Tehran." A true detective…
The real purpose of the hype is to bring the Iranian threat home, justifying the increased militarization of our backyard and Iran's in one stroke.

Of course, Latin American history has seen plenty of state-sponsored terror, including the disappearance of 30,000 suspected leftists during the Argentine dirty war of 1976-83, many of whom were dropped from airplanes into the river or the ocean.

A recently published memo confirms that U.S. Secretary of State Henry Kissinger gave the Argentine junta the "green light" to commence the disappearances. A number of key participants in this and similar regional projects were trained at the notorious School of the Americas, then located in Panama and run by — you guessed it — not Iran…
Lost in all the ruckus, of course, is a question that should be obvious: Why is the U.S. allowed to militarize the globe — including Iran's immediate neighborhood…It's the same playbook Reagan drew on when he warned that the Sandinistas were "just two days' driving time from Harlingen, Texas." Such rhetoric means more money for the defense and border fortification industries, and preemptively validates any eventual Israeli or U.S. aggression against Iran.
And, now, the world reacts with hope and support for the potential of a US-Iran Nuclear Accord. Yes, Obama will blather about protecting the whole world and UN involvement; but, when push comes to shove, this is one more example of the United States and our agitprop aircraft carrier floating above Middle East oil reserves – Israel – lined up against a nation where we already have a history of regime change. Iran.
Days to come will show me one of the more interesting facets of the negotiating process between the White House and Congress. A process that will demonstrate to the rest of the world how little real foreign policy changes from generation to generation in the United States. Obama prides himself in a quest for nuclear disarmament – but, not at the expanse of Israel or Exxon.
We will get to see which of the Blue Dog Democrats will advertise their cowardice and opportunism and side with Republican neo-cons and fundamentalist nutballs alike opposing the nuclear treaty just negotiated.
Thanks, Tom