Posts Tagged 'Legion of Honor'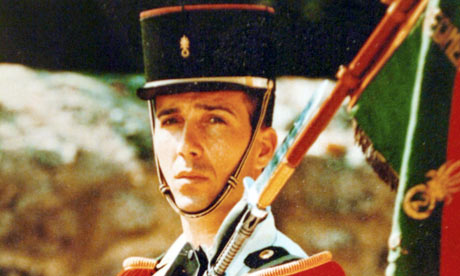 A soldier who joined the French Foreign Legion after he was rejected by the British army on medical grounds is in line to be received into the Légion d'honneur for his bravery.
Alex Rowe, from Gloucestershire, was turned away by British recruiters as a teenager because he had a detached retina but, determined to follow a military career he signed up for the Légion étrangère, which accepts troops from any country.
Now 43, Rowe has served in the Gulf, the former Yugoslavia and has just returned from Afghanistan, where he earned his award after fierce fighting against the Taliban.
His mother, Jennifer…revealed that Rowe is to be received into the Légion d'honneur, the order established by Napoleon to recognise extraordinary service by military personnel and civilians…
Despite his history of visual problems, Rowe was first made a sniper and was known as a top marksman.
He was previously awarded for bravery while serving in Sarajevo after braving sniper fire to run across a city plaza and shield a mother and daughter from a hail of bullets. In all, his mother said he had already received four awards for bravery.
In Afghanistan he has been fighting alongside Britons, dozens of Russians, and others from as far as Algeria and China. He was involved in a gunbattle recently in which 10 comrades were gunned down.
My respect for courageous, brilliant members of any military is no surprise to regulars here. Day-by-day, the easiest way to distinguish between traditional conservatives and the occasional brain-dead right-winger who wanders in the door is understanding that many of us who fight against unjust and criminal wars don't roll over and play dead just because we're confronted with war.
We – I – also understand the traditions and obedience to standards required of someone who makes the decision for a military career. I consider myself fortunate to have marched against bigotry and reaction alongside brave veterans of anti-Fascist war, wars of national liberation.
Alex Rowe, I salute you.