Posts Tagged 'Niqabitches'
Two French female students have made a film of the pair of them strolling through the streets of Paris in a niqab, bare legs and mini-shorts as a critique of France's recently passed law.
Calling themselves the "Niqabitches," the veiled ladies can be seen strutting past prime ministerial offices and various government ministries with a black veil leaving only their eyes visible, but with their long legs naked bar black high heels.
Bemused passers-by can be seen gawping at the pair or asking to take photographs in the clip.
At one stage in the film, the two women approach the entrance to the ministry of immigration and national identity, only to be told by a policeman to go elsewhere. However, a policewoman also present is delighted by their clothes. "I love your outfit, is it to do with the new law?" she asks. "Yes, we want to de-dramatise the situation," one girl replies. "It's brilliant. Can I take a photo?" asks the policewoman, who will soon be required to fine public niqab wearers…
"To put a simple burka on would have been too simple. So we asked ourselves: 'how would the authorities react when faced with women wearing a burka and mini-shorts?," asked the students, one of whom is a Muslim…
"To dictate what we wear appears to have become the role of the State (as if they didn't have other fish to fry …)."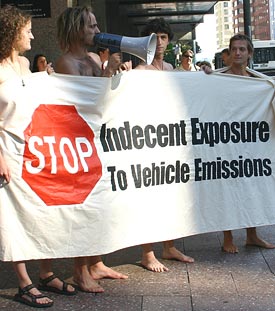 We're going through the opposite government morass here in Santa Fe. The question of public nudity – even as a form of protest – tied up city government for debate and ponderous discussion for days after a recent demonstration of nude and semi-nude bicyclists.
The prurient-minded among the citizenry – which generally means one or another flavor of Christian – required a means of arresting folks engaging in public nudity for any reason whatsoever. Because it turned out the city didn't have sufficient laws on the books to bust the bicyclists.
No doubt there will be prayers of praise at the Cathedral this Sunday for the final passage of a torturous ordnance that can hauled out next year for the world nude bicyclists' protest. Or better yet – to bust some performance artist who poses in front of a tourist from Texas.