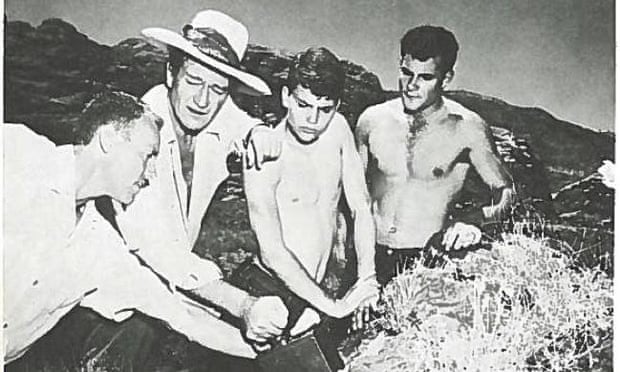 The photograph shows John Wayne with his two sons during a break in filming on the set of The Conqueror, a big budget blockbuster about Genghis Khan shot in the Utah desert in 1954. It was one of Hollywood's most famous mis-castings. The duke could do many things but playing a 13th century Mongol warlord was not one of them. Film geeks consider it one of the great turkeys of Hollywood's golden age.

There is another, darker reason it endures in film lore. The photograph hints at it. Wayne clutches a black metal box while another man appears to adjust the controls. Wayne's two teenage sons, Patrick and Michael, gaze at it, clearly intrigued, perhaps a bit anxious. The actor himself appears relaxed, leaning on Patrick, his hat at a jaunty angle. The box, which rests on a patch of scrub, looks unremarkable. It is in fact a Geiger counter.
It is said to have crackled so loudly Wayne thought it was broken. Moving it to different clumps of rock and sand produced the same result. The star, by all accounts, shrugged it off. The government had detonated atomic bombs at a test site in Nevada but that was more than a hundred miles away. Officials said the canyons and dunes around St George, a remote, dusty town where the film was shooting, was completely safe.
Last week, half a century later, Rebecca Barlow, a nurse practitioner at the Radiation Exposure Screening and Education Program (RESEP), which operates from the Dixie Regional Medical Center in St George, now a prosperous little city with an airport, leafed through her patient records. "More than 60% of this year's patients are new," she said. "Mostly breast and thyroid, also some leukaemia, colon, lung."
This is a story about cancer. About how the United States turned swathes of the desert radioactive during the cold war and denied it, bequeathing a medical mystery which to this day haunts Hollywood and rural Mormon communities and raises a thorny question: how much should you trust the government?
RTFA and decide for yourself how much you should trust some parts of the government.
I haven't yet become paranoid about the whole structure. After all, the Social Security Administration runs with a management staff one-fifth of its private-sector counterparts and cranks out the insurance benefits we paid for year-after-year. The only problem there is Congress persists in cutting off taxing anyone making more than most of us.
And then there's the Pentagon and Congress.