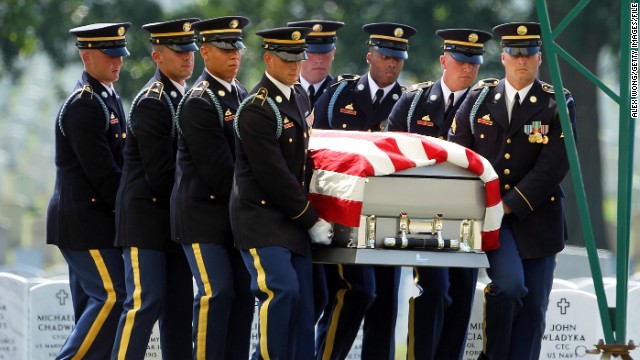 Every day, 22 veterans take their own lives. That's a suicide every 65 minutes. As shocking as the number is, it may actually be higher.

The figure, released by the Department of Veterans Affairs in February, is based on the agency's own data and numbers reported by 21 states from 1999 through 2011. Those states represent about 40% of the U.S. population. The other states, including the two largest (California and Texas) and the fifth-largest (Illinois), did not make data available.
Who wasn't counted?

People like Levi Derby, who hanged himself in his grandfather's garage in Illinois on April 5, 2007. He was haunted, says his mother, Judy Casper, by an Afghan child's death. He had handed the girl a bottle of water, and when she came forward to take it, she stepped on a land mine…

Derby was not in the VA system, and Illinois did not send in data on veteran suicides to the VA…
Combat stress is just one reason why veterans attempt suicide. Military sexual assaults are another. Psychologist Craig Bryan says his research is finding that military victims of violent assault or rape are six times more likely to attempt suicide than military non-victims.

More than 69% of all veteran suicides were among those 50 and older. Mental-health professionals said one reason could be that these men give up on life after their children are out of the house or a longtime marriage falls apart. They are also likely to be Vietnam veterans, who returned from war to a hostile public and an unresponsive VA. Combat stress was chalked up to being crazy, and many Vietnam veterans lived with ghosts in their heads without seeking help…
Then, Ronald Reagan issued an executive order denying unemployment compensation to VietNam-era vets "who decided not re-enlist".
"There's probably a tidal wave of suicides coming," says Brian Kinsella, an Iraq war veteran who started Stop Soldier Suicide, a nonprofit group that works to raise awareness of suicide. Between October 2006 and June 2013, the Veterans Crisis Line received more than 890,000 calls. That number does not include chats and texts.
Though there is a tradition among conservatives to consider all war as patriotic, there is no matching correlation with the cost of war. This is especially true of the Neo-Cons with "con" standing for both conservative and confederate. They love sending folks off to war – without the least consideration for the cost of war.
At best, they count the cost of war in dollar$ and cent$ for hardware. At worst – more typical – they consider the cost in human lives as collateral damage when it comes to the "other side" and some kind of inherent weakness outside of combat casualties on "our side". Sit down and have a couple of beers with Dick Cheney and you'll see what I mean. Metaphorically or otherwise.
So, Bush and Cheney sent our military off to foreign lands with bigger and better hardware. Many came back with bigger and much worse cases of PTSD than the VietNam vets sent off by Johnson and Nixon. Neither group of stinking politicians included plans to pay for the cost of their wars. Neither group considered the damage done to our military men and women as part of that cost – anyway.
RTFA to add another jot of sadness to your day. Beaucoup examples of the overlooked and forgotten.
Thanks, Mike