 Celebration in Kingston
Jamaica is set to loosen colonial ties with Britain by moving to replace the Queen as head of state with a president, the country's new prime minister has indicated.
Nearly fifty years after independence, Portia Simpson Miller, a charismatic populist who won a landslide election victory last week, said Jamaica would move to cut links with the monarchy and become a republic.
"I love the Queen. She's a beautiful lady," Simpson Miller told 10,000 guests on Thursday at the residence of Jamaica's governor-general, the Queen's representative on the island. Switching to patois, she added: "But I think time come."
The move reflects an accelerating drift towards republicanism among Commonwealth Caribbean countries. Guyana and Trinidad and Tobago have both dropped the Queen as head of state, while opting to remain in the Commonwealth…
This week Simpson Miller vowed to introduce reforms to make the Caribbean court of justice the final appeal court in all criminal matters. The move would repatriate Jamaica's sovereignty fully, she said…
Simpson Miller is genuinely popular and has an unrivalled ability to project empathy with the poor and downtrodden. Her PNP party…now has an unprecedented two-thirds majority in parliament. This is enough for her to change the constitution and a win a vote to convert Jamaica into a republic. Then, she has to put her plan to a popular referendum…
Dumping allegiance to a monarch is only a couple centuries overdue. The economic shackles to the UK have been sufficiently weakened since the end of World War 2. It's about time the intellectual and political shackles were also thrown off.

Daylife/Reuters Pictures used by permission
There was likely some semblance of good sense in homogenizing the Canadian army, navy and air force 43 years ago, creating a single home team — with its relatively new national flag — to represent our nation in hot spots around the world…
The change made it clear Canada was not a colony of Britain. We were a grown-up country with our own armed forces, no longer beholden to the Queen…
Stephen Harper's government made everything old new again with its announcement that the old names of the air and maritime divisions of the Canadian Forces will be restored, with the "royal" intact. Welcome back Royal Canadian Navy, Royal Canadian Air Force and Canadian Army. Never mind that the changes will not affect the military's command structures.
The name changes come after five years of intense lobbying by veterans groups and military personnel, as well as recommendations of the Senate Committee on National Defence. In announcing the changes, federal Defence Minister Peter MacKay said it was important to correct a historic mistake made during unification. Restoring the historic identities, he said, is a way to reconnect today's military men and women with the history and traditions of our armed forces…
But does the "royal" moniker make much difference to the young men and women starting their military careers? They are, after all, the future of our armed forces.
It seems a retrograde move to hearken back to colonial times, despite the fact that royal themes are ingrained elements in the fabric of our parliamentary democracy. It would be more appropriate for our military to look forward, not back, to define itself based on the present and the future, rather than the past.
Not that Harper and his Tory fan club are especially strong at forward-looking. I don't know what my Progressive Conservative kinfolk on PEI think of the change – but, cyberfriends I know through one or another part of the blogosphere are embarrassed as all get-out. It should only cost about $25 million to get Harper a few new votes!
Yes – they must be teased. That rather advanced social and political structure up there in the GWN has proven capable of marching to the rear of backwards as easily as any Kool Aid Party birther. :)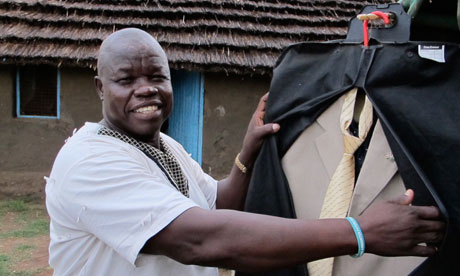 Photograph: Xan Rice for the Guardian
The freedom suit is tan, single-breasted and has three buttons. It hangs in Charles Mamur's tent, covered by a black bag to protect it from the dust that blows in from the dirt streets of South Sudan's capital, Juba.
Mamur bought the suit two years ago for about £50 but he has never worn it. He was keeping it for a special occasion, a time that he had dreamed of since the day nearly 50 years ago when, as a 10-year-old boy, he took up arms against the Arab government in Khartoum in the north.
"I never believed that the moment of freedom would come," Mamur, 58, said this week, unzipping the bag to show off his suit, as well as the yellow tie and black shoes he picked to go with it. "But I wanted to be well dressed if it did."
The moment has now arrived. At around noon on Saturday in the swelter of Juba, a besuited Mamur will be among tens of thousands of South Sudanese and foreign dignitaries, including the British foreign secretary, William Hague, and the UN secretary general, Ban Ki-moon, who will watch as the flag of Sudan is lowered. Then, a giant South Sudan flag, six metres by four metres, will be raised on a 32-metre electronically operated flagpole that was installed this week by Chinese contractors who claim it is the tallest on the continent.
Six years after the end of Africa's longest-running civil war – and one of its deadliest – its largest country will be officially split in two. The Arab-dominated north under President Omar al-Bashir will remain Sudan, only with much less territory and oil. The ethnically African, non-Muslim south, governed by former rebel Salva Kiir, will become the 193rd country to join the United Nations – the Republic of South Sudan.
RTFA. Long and filled with anecdotes from the history of this struggle for independence.
Scholars and students of history can step back and analyze the pros and cons of secession, of independence for nations from another. There are historic definitions – and damned few reasonable, successful examples.
As a general rule, I rarely support the politics behind secession. This time, I think the joy of self-rule will be worth the political toil that follows the bitter civil war that preceded the founding of the nation of South Sudan.