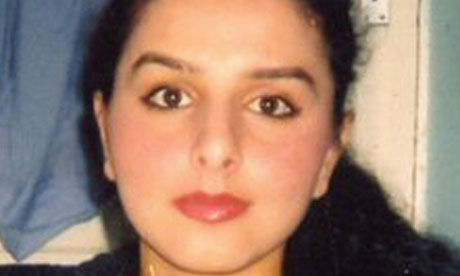 Banaz Mahmod, an 'honour killing' victim strangled in 2006
The number of women and girls in the UK suffering violence and intimidation at the hands of their families or communities is increasing rapidly, according to figures revealing the nationwide scale of "honour" abuse for the first time.
Statistics obtained under the Freedom of Information Act about such violence – which can include threats, abduction, acid attacks, beatings, forced marriage, mutilation and murder – show that in the 12 police force areas for which comparable data was available, reports went up by 47% in just a year.
The figures, shared with the Guardian by the Iranian and Kurdish Women's Rights Organisation (Ikwro), also reveal that a small number of forces – including four in Scotland – are still not collecting data on how often such violence occurs.
The 39 police forces that gave Ikwro figures recorded 2,823 incidents in 2010…But this is likely to be only the tip of the iceberg, campaigners say, as so many incidents go unreported because of victims' fears of recriminations…
Ikwro's campaigns officer, Fionnuala Ni Mhurchu, said the increase was probably due partly to better police awareness and to more victims coming forward after coverage of high-profile prosecutions, but that violence itself was also increasing as young people increasingly refused to bow to their families' demands.
"They're resisting abuses of their human rights such as forced marriage more and more," she said. "And as a result they're being subjected to this kind of violence. We hear from the community that this violence is on the increase.
"These figures are important because they demonstrate this is not a minor problem – it is a serious issue affecting thousands of people a year, many of whom will suffer high levels of abuse before they seek help. We want the government to develop a national strategy on honour-based violence that covers not just policing but also issues such as education and community cohesion…"
Immigrants need to understand they are in a nation where the law of the land has primacy – and will be enforced. No doubt many come from countries where a blind eye is turned to criminal fanatics who abuse young women and men in the name of religion and culture. They must be assured this is not the case in the UK and the US.
I think one of these reasons our immigrant population – especially from theocratic lands in South Asia and the Middle East – suffers these indignities less often in the United States is exactly that they become cause celebre and receive strong legal attention. For whatever reasons, similar efforts in the UK seem to be overdue.