Posts Tagged 'separated'

Juana Villegas [L] and Maggie Hernandez with her lawyer Elliot Ozment [R]
A federal judge has ruled in favor of a Nashville mother who triggered a national outcry after she was shackled during labor and after giving birth while in custody of the Davidson County Sheriff's Office…
Nine months pregnant, Villegas was arrested July 3 and charged with careless driving and driving without vehicle insurance. She didn't have a driver's license. A check of Villegas' immigration status found she had a previous deportation order to her native Mexico. Her water broke on July 5 and she delivered the baby at 1 a.m. on July 6.
In his decision Wednesday, Haynes wrote that Villegas was "neither a risk of flight nor a danger to anyone," citing medical testimony. The judge concluded that shackling Villegas during the final stages of her labor and her post-partum recovery violated her civil rights…
She was separated from her newborn son for two days and was not allowed to have a breast pump or cream for lactating mothers in her cell…
The sheriff's office declined to comment. In combating the lawsuit, it cited expert testimony on the danger of "illegal immigrants fleeing and engaging in illegal activities" to justify shackling the expectant mother to the bed…
Villegas, the mother of four U.S.-born children, has lived in this country for 17 years, returning quickly after a 1996 deportation to Mexico.
The fact of her undocumented status, of course, shouldn't have had a damned thing to do with lousy treatment by Tennessee sheriffs. I hope the federal court throws the book at these thoughtless representatives of law and order.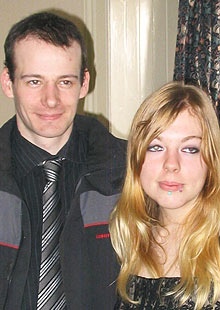 MPs have taken up the case of two young newlyweds who are being forced apart as an unintended consequence of a new immigration law aimed at protecting Asian women from forced marriages.
Adam Wallis and Canadian Rochelle Roberts, who married in the UK a week after her visa ran out, face an enforced year and a half of separation until she is 21…
Keith Vaz, the chairman of the Commons home affairs select committee, said last night the case could prompt a change in the law, adding: "This is clearly a case which needs to be looked at by a minister. What needs to happen is the government needs to say, ministers in the Home Office need to say, that this is not what we intended with this act…"
This is as stupid as the Zero Tolerance regulations much beloved of school administrators in the United States. Removing the requirement to think – removes responsibility for stupid decisions. Supposedly.