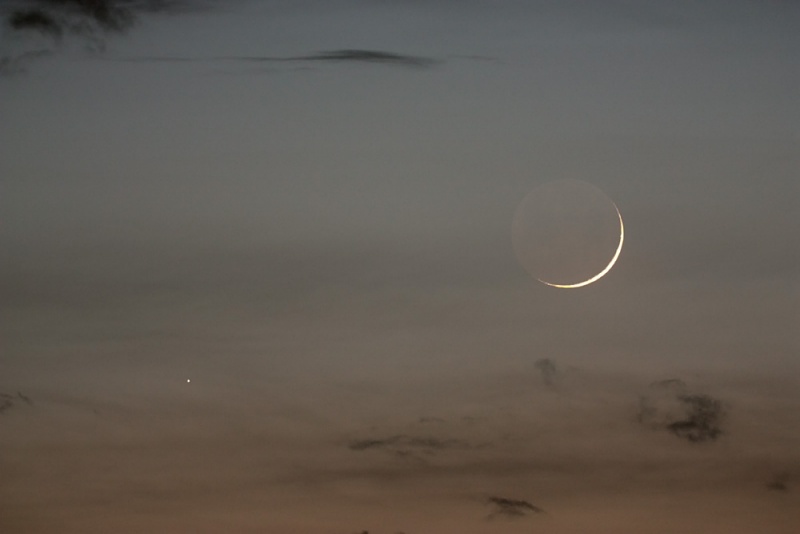 During these next three weeks we will be presented with an excellent opportunity to view Mercury in the early morning dawn sky. Mercury is called an "inferior planet" because its orbit is nearer to the sun than the Earth's. Therefore, it always appears from our vantage point to be in the same general direction as the sun…
In the pre-Christian era, this planet actually had two names, as it was not realized it could alternately appear on one side of the sun and then the other. Mercury was called Mercury when in the evening sky, but was known as Apollo when it appeared in the morning. It is said that Pythagoras, about the fifth century B.C., pointed out that they were one and the same.
Mercury rises before the sun all of this month and is surprisingly easy to see from now through Nov. 5. All you have to do is just look low above the eastern horizon during morning twilight, from about 30 to 45 minutes before sunrise for a bright yellowish-orange "star."
Mercury will be at its greatest western elongation, 18 degrees to the west of the sun, on Oct. 22, rising as dawn breaks, and making this Mercury's best morning apparition of 2004. Mercury, like Venus, appears to go through phases like the moon. Shortly after passing inferior conjunction on Oct. 6, Mercury was just a slender crescent. Currently, it appears about one-third illuminated, but the amount of its surface illuminated by the sun will continue to increase in the days to come. So although it will begin to turn back toward the sun's vicinity after Oct. 22, it will continue to brighten steadily, which should help keep it in easy view over the following couple of weeks.
Helping to aid in identifying Mercury will be a lovely crescent moon. Early on the morning of Oct. 26, at about an hour before sunrise, you'll find the moon low in the east-southeast sky and Mercury will appear as a bright star-like object well below and to the moon's left.
The article has plenty of detail, history, science and common sense suggestions for watching. Enjoy this special opportunity to see one of our downhill neighbors.
A recording of this emergency call has been released as part of a police campaign asking people to use 999 appropriately:

Control Room: "South Wales Police, what's your emergency?"
Caller: "It's not really. I just need to inform you that across the mountain there's a bright stationary object."
Control room: "Right."
Caller: "If you've got a couple of minutes perhaps you could find out what it is? It's been there at least half an hour and it's still there."
Control: "It's been there for half an hour. Right. Is it actually on the mountain or in the sky?"
Caller: "It's in the air."
Control: "I will send someone up there now to check it out."
Caller: "OK."
The mystery was soon solved, as the exchange between control and an officer at the scene, makes clear:
Control: "Alpha Zulu 20, this object in the sky, did anyone have a look at it?"
Officer: "Yes, it's the moon. Over."
I would never survive a gig like emergency despatch. Too willing to tell people the truth, too likely to respond by pointing out they just may be a stupid git!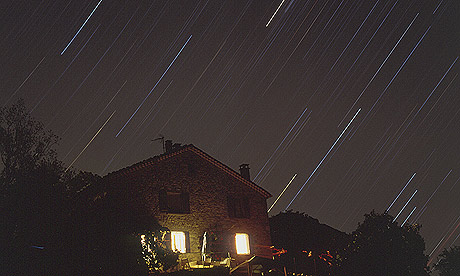 Astronomer Olly Penrice is getting excited. "Don't look, don't look! In a minute you will see it and be much amazed…"
I put my eye to the telescope, a fat barrel of a thing fixed on a tripod embedded in concrete, and suddenly I'm floating above the craters and plains of our nearest neighbour. It feels like flying over the surface at 20 miles high. The view is too big to fit in the eyepiece in one go, so Olly hands me a gently glowing remote control and instructs me to look north, south, east and west.
I press north and the telescope whirs gently up the way, revealing jagged-edge craters and flat, silvery volcanic plains. I explore, whirring left, right, up and down, before handing on the remote control and eyepiece to the person waiting next to me. He too gazes in wonder, and then quietly says, "It looks like it's made of cheese, Gromit."
Another lovely piece in the Guardian – making me want to take my wife to Provence. Show her all the lovely parts of the countryside which look very much like where we live outside of Santa Fe.
And to see the night sky from another special vantage point.