Christchurch was so badly damaged in last month's deadly earthquake that parts of New Zealand's second largest city will have to be abandoned, Prime Minister John Key has said.
Key confirmed 10,000 homes faced demolition after the 6.3-magnitude tremor which is believed to have claimed more than 200 lives, warning that rebuilding would not be possible in some areas.
"We simply don't know," he told Radio New Zealand when asked which parts of the city would be deserted. "We know there's been substantial liquefaction damage.
"It's a statement of fact that there will be some properties that can't be rebuilt… the question is whether it (rebuilding) is possible for certain parts of the city, certain streets or houses."
Key said geotechnical engineers were working urgently to clarify the areas worst affected by liquefaction, caused when the quake's shaking loosened the bonds between soil particles, turning the ground into a quagmire.
Community worker Tom McBrearty said the prime minister's comments had increased anxiety among residents still reeling from the February 22 quake. "They interpreted… it as being that the riverside communities would not be allowed to be rebuilt, which is at this stage is incorrect. We don't know, we're still waiting for final analysis."
Key said the government would provide financial assistance to those who were forced to move and was in talks with developers about releasing new subdivisions to cope with the demand for housing in the stricken city.
Christchurch mayor Bob Parker said speculation on the fate of entire suburbs was "alarmist" and urged residents to wait until geotechnical reports were complete.
Sad, sad tale. Although this earthquake technically was an aftershock of last year's quake, it blasted along a new fault and being closer to the surface and in a populous area – just did an enormous amount of damage. More than anyone had foreseen.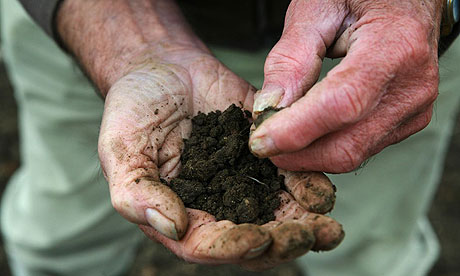 Unnoticed by the people of Britain, a transformation has been happening beneath our feet. In the first study of its kind, scientists have analysed the soil the country depends on.
In just the top 8cm of dirt, soil scientists estimate there are 12.8 quadrillion living organisms, weighing 10m tonnes, and, incredibly, that the number of these invertebrates – some just a hair's breadth across – which in effect make the soil has increased by nearly 50% in a decade. At the same time, however, the diversity of life in the earth appears to have reduced.
The most likely reason for both the increase in numbers and the decrease in types is the rise of annual temperatures and rainfall over the decade of the study, leading to warmer, wetter summers, said Professor Bridget Emmett, of the UK's Centre for Ecology and Hydrology (CEH), who led the study. The scientists' theory is that the warmer, wetter soil encourages most of the bugs to breed faster or for longer, but that more marginal species have been unable to adapt to the new conditions.
They are less certain, however, about whether the changes are a threat or a boon: soil has a relatively high "species redundancy", so there are many species that can do the same job, but all creatures are facing an onslaught of changes such as global warming, pollution and habitat destruction.
"If you look at the soil, most of it comes out of the back end of the animals," said Emmett. She added: "The question is whether we have lost resilience in the soil. Is diversity important for the soil to bounce back after multiple pressures..?"
The decrease in the variety of species found was much smaller – 11% – and the scientists warn that further research is needed to be sure of the trends, because too little is known about whether climate, pollution and land management affect soil bugs and, if so, how.
Cripes. Now my curious bump is going to force me to track down similar info for the United States – or hopefully my own neck of the prairie. I've already noted on this blog species changes in lizards and birds.
Actually, I don't doubt that extension bureaus, local farm bureaus, may already have comparable information – though I can easily guess what they will show for American agricultural regions. We've been using pesticides and chemical fertilizers for so long – striving for monocultures – I'll bet diversity is down as much as mass may well be.
That's only a guess. Kudos to the Brits for continuing and advancing their Countryside Study.