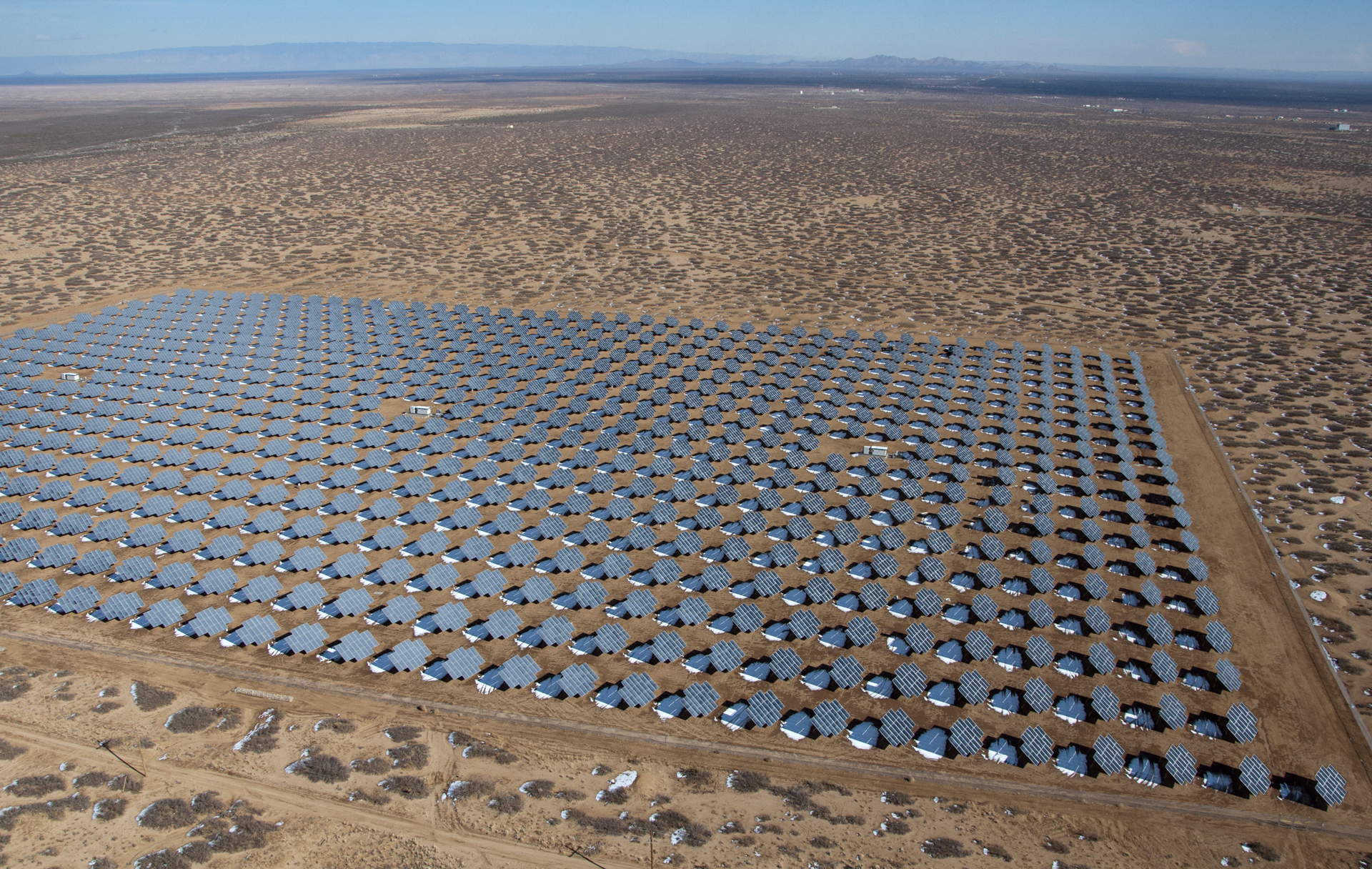 Click to enlarge — US Army base solar farm in White Sands, New Mexico
For the solar and wind industries in the United States, it has been a long-held dream: to produce energy at a cost equal to conventional sources like coal and natural gas.

That day appears to be dawning.
The cost of providing electricity from wind and solar power plants has plummeted over the last five years, so much so that in some markets renewable generation is now cheaper than coal or natural gas.

Utility executives say the trend has accelerated this year, with several companies signing contracts, known as power purchase agreements, for solar or wind at prices below that of natural gas, especially in the Great Plains and Southwest, where wind and sunlight are abundant.

Those prices were made possible by generous subsidies that could soon diminish or expire, but recent analyses show that even without those subsidies, alternative energies can often compete with traditional sources…
And there have never been conventional power plant build-outs that got off the ground without state or federal assistance of some kind.
…In Oklahoma, American Electric Power ended up tripling the amount of wind power it had originally sought after seeing how low the bids came in last year.

"Wind was on sale — it was a Blue Light Special," said Jay Godfrey, managing director of renewable energy for the company. He noted that Oklahoma, unlike many states, did not require utilities to buy power from renewable sources.

"We were doing it because it made sense for our ratepayers," he said.
According to the Solar Energy Industries Association, the main trade group, the price of electricity sold to utilities under long-term contracts from large-scale solar projects has fallen by more than 70 percent since 2008, especially in the Southwest.,,

The price drop extends to homeowners and small businesses as well; last year, the prices for residential and commercial projects fell by roughly 12 to 15 percent from the year before.
The wind industry largely tells the same story, with prices dropping by more than half in recent years. Emily Williams, manager of industry data and analytics at the American Wind Energy Association, a trade group, said that in 2013 utilities signed "a record number of power purchase agreements and what ended up being historically low prices…"

"We're finding that in certain regions with certain wind projects that these are competing or coming in below the cost of even existing generation sources," she said.
…Solar executives are looking to extend a 30 percent federal tax credit that is set to fall to 10 percent at the end of 2016. Wind professionals are seeking renewal of a production tax credit that Congress has allowed to lapse and then reinstated several times over the last few decades…

Where that effort will go now is anybody's guess, though, with Republicans in control of both houses starting in January.
Mail me a penny postcard when you find some Congressional Republicans interested in saving money, aiding the environment, contributing to sound ecological principles that make a better life for workingclass folks.
RTFA for details. There are answers for a few of the non-political questions.