Posts Tagged 'tale'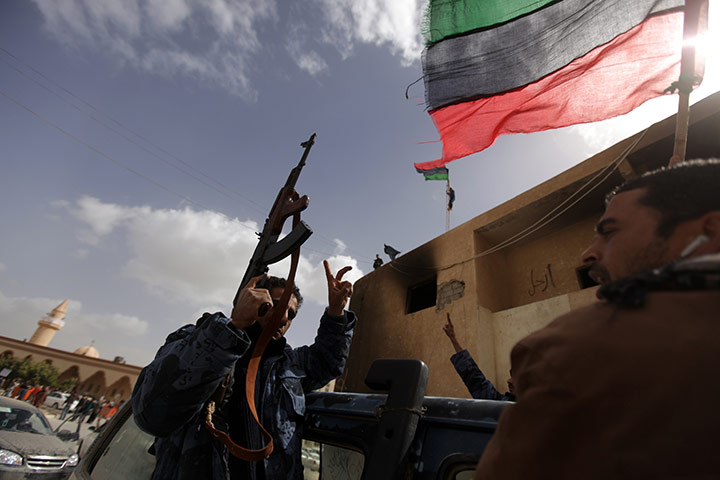 Members of Libya's secret police wave their old national flag as they march in support of dissidents
Vets who saved a female stork, shot by hunters in Croatia, thought her days were numbered – but reckoned without the devotion of her mate.
The vets knew the female, which they called Malena, would never fly again but put her back on her nest thinking she would not survive the winter.
When her partner, named Rodan, flew south with their young they expected that she would eventually die and certainly never mate again.
But their predictions were proved wrong after the Vokic family where she had a nest helped to feed her through the long winter months and she survived.
And – even more amazingly – Rodan has returned every year to mate with his partner and rear another clutch of chicks.
Every year Rodan flies 13,000 kilometres to South Africa to spend winter in the warm and then the same distance back again to be back with his injured love.
I always find these tales interesting, though I can't speak to storks. Squirrels I can speak to.
Daylife/AP Photo used by permission
The original version of the story of Sir Isaac Newton and the falling apple has been made available online.
Newton recounted the story that inspired his theory of gravitation to scholar William Stukeley. It then appeared in Stukeley's 1752 biography, Memoirs of Sir Isaac Newton's Life.
The UK's Royal Society converted the fragile manuscript into an electronic book, which anybody with internet access will now be able to read…
Martin Kemp, emeritus professor of the history of art at Oxford University's Trinity College, UK, said that being able to see the manuscript in its original form, rather than rely on a transcript, was "incredibly valuable to historians".
"We needn't believe that the apple hit his head, but sitting in the orchard and seeing the apple fall triggered that work.
"It was a chance event that got him engaged with something he might have otherwise have shelved."
The society will, at the same time, make other treasures from its archive available online. These include Thomas Paine's iron bridge design, the philosopher John Locke's contribution to an early American constitution, and rare natural history illustrations from the 17th through to the 19th Centuries.
The feel and look of the time adds to the telling of the tale.