Posts Tagged 'Telegraph'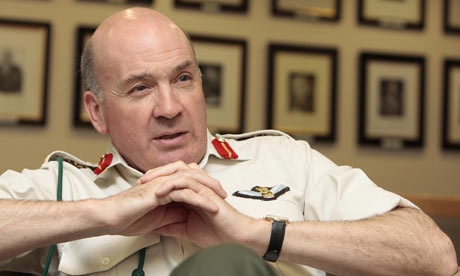 The former head of the army today accused Tony Blair and Gordon Brown of letting down British troops in Iraq and Afghanistan and described the case for the Iraq war as "most uncompelling".
General Sir Richard Dannatt called Brown "malign" for failing to fund the armed forces adequately, and said Blair lacked the "moral courage" to make his then chancellor deliver the money that was needed.
The accusations were made in a book, Leading From the Front, which is being serialised in the Sunday Telegraph…
In his book, Dannatt wrote that the evidence for Iraq's possession of weapons of mass destruction – the official justification for Britain's involvement in the 2003 invasion – was "most uncompelling" and the planning for the aftermath of war had been an "abject failure".
While the 1998 strategic defence review (SDR) provided a "good framework" for defence policy in the Labour years, it was "fatally flawed" because it was underfunded by Brown's Treasury and could not cope with the strains of deploying troops in Iraq and Afghanistan at the same time.
"History will pass judgment on these foreign adventures in due course, but in my view Gordon Brown's malign intervention, when chancellor, on the SDR by refusing to fund what his own government had agreed, fatally flawed the entire process from the outset," he wrote.
"The seeds were sown for some of the impossible operational pressures to come…"
Sound familiar? Insert the names "George W, Bush, Donald Rumsfeld, Dick Cheney" in the appropriate locations and watch the hurried defense of political hacks who specialize in rear guard actions against any responsibility for their political disasters.
In both the US and UK, politicians who abdicated any responsibility to the real needs of their electorate and the world seem to gather on a frequent schedule, first, to screw up the world – and, second, to lie and avoid responsibility for what they did in the first place.
True Believers aid as best they can.