Posts Tagged 'unexploded bomb'

NOT a bomb – but used as a bell at a school in Uganda
A mine awareness team in Uganda was horrified to find an unexploded bomb being used as a bell when they visited a school to teach children how to spot bombs, a local newspaper reported.
The Anti-Mine Network organization saw teachers banging the bomb with stones to call children to lessons in a 700-pupil school in a rural area, the Daily Monitor said.
"Its head was still active, which means that if it is hit by a stronger force, it would explode instantly and cause untold destruction in the area," Wilson Bwambale, coordinator of the organization, told the newspaper…
The Ugandan military has fought two rebel insurgencies over the last two decades and mines and bombs still litter former battlefields around the country.
This is the second bomb that the Anti-Mine Network have found in a Ugandan school in the last six months. Another was found being used by children at lunchtime as a toy and put away in a storeroom during lessons.
I'll bet you thought having insufficient paper and pencils was a tough schoolday problem.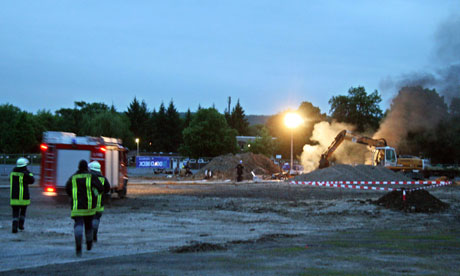 Ambulance crew rushing into the site after the explosion
Three members of a bomb-disposal team were killed and six people wounded in the central German city of Goettingen when a World War II bomb exploded prior to attempts to disarm the device, officials said.
The explosion occurred…as the bomb squad was taking final public safety measures ahead of the defusal procedure.
The bomb was the second device to have been found at the site in recent days, with the first having been made safe without incident.
Goettingen Police Chief Robert Kruse said that three "very experienced, highly professional" staff had been lost, and that it was a tragic day for the city. Lower Saxony Interior Minister Uwe Schuenemann said that the three men had between 20 and 30 years of experience in the bomb-disposal squad, and had worked on up to 700 devices together…
The exploded bomb had been uncovered at a depth of seven metres as foundation digging for a new sports stadium was being carried out.
Goettingen's main train station, which lies some 700 metres from the explosion site, was the target of heavy Allied bombing raids during 1944.
Most Americans have no clue about dangers like this. We have been insulated by oceans and time from the dangers faced by civilian populations through either of the World Wars. Our soldiers brought home sad memories. But, the experience of being bombed – and duds being discovered decades later placing families in danger – doesn't even exist on the edge of consciousness for most.
This was the 2nd of 2 bombs discovered during construction. The first was disarmed. There are about 2000 tons of unexploded WW2 ordnance found in Germany every year.