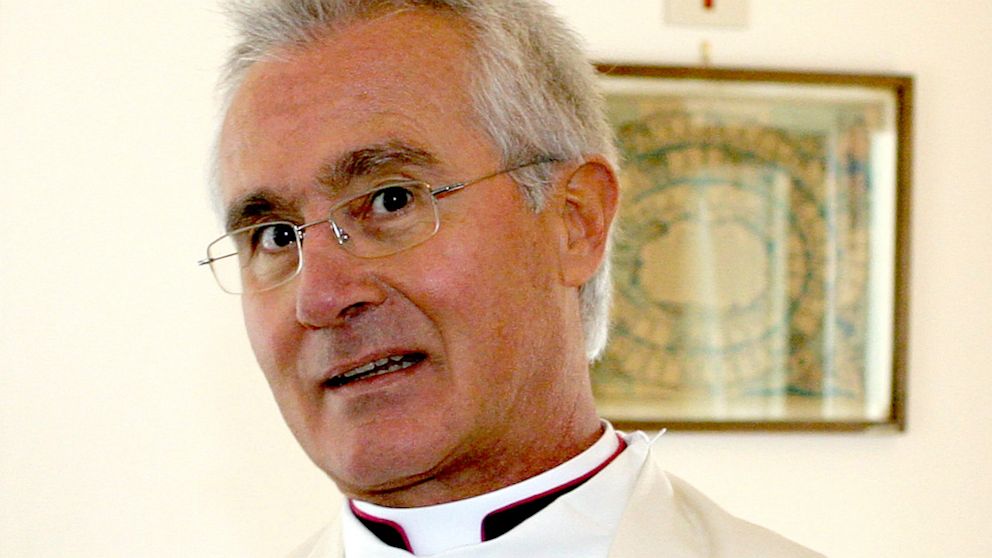 A senior Catholic cleric with connections to the Vatican bank was arrested on Friday for plotting to help rich friends smuggle tens of millions of euros in cash into Italy from Switzerland, in the latest blow to the Vatican's image.

Monsignor Nunzio Scarano, 61, who worked as a senior accountant in the Vatican's financial administration, was arrested along with an Italian secret service agent and a financial intermediary in a tale that reads like a spy novel.

It involves police wiretaps, a private plane rented to collect the cash from Locarno, burned cell phones and an allegedly corrupt secret services agent who promised to get the money past customs.
Details of the case against Scarano will come as an acute embarrassment to Pope Francis, who, since his election in March, has pointedly eschewed many of the trappings of office and sought to stress the importance of a simple life of devotion…
Scarano, who was arrested in a Rome parish and taken to Rome's Queen of Heaven jail, had hatched a plot to bring up to €40 million into Italy for a family of shipbuilders in his hometown of Salerno in southern Italy, magistrate Nello Rossi told reporters.

Rossi is already investigating the Vatican bank for money laundering, and the latest arrests stemmed from that…
According to Rossi, in July last year Scarano engaged Giovanni Zito, a paramilitary Carabiniere policeman on loan to the secret services, to help him get the money, which was in a Swiss bank, into Italy without tax and customs controls.

The third person arrested was Giovanni Carenzio, a financial broker with offices in Switzerland and the Canary Islands and who was acting as the fiduciary for the owners of the money…

It was not clear how or when the money got to Switzerland in the first place.
Rossi said his office would seek permission from the Vatican, which is a sovereign state, to question officials. "This is just a piece in a much larger mosaic," he said.

Scarano, who Rossi said had worked for a German bank before he became a priest, was for years a senior accountant for a Vatican department known as APSA, whose official title is the Administration of the Patrimony of the Apostolic See…
Seriously, does any of this surprise anyone? Aren't we beyond the era of naïveté about the Roman Catholic church and corrupt wealth?
RTFA for lots of details. A farce worthy of being made into a comic Italian movie.
The Vatican will announce new rules to combat financial crime on Thursday as it continues to deal with a money-laundering probe that has seen 23 million euros frozen from its banking institution.
The Vatican said in a statement on Wednesday that Pope Benedict would issue a so-called apostolic letter on combating financial crime, money laundering and the funding of terrorism. The Holy See would create a financial information authority.
The Vatican bank, formally known as the Institution for Religious Works (IOR), has been under investigation for suspected violations of European Union money laundering rules since September. It denies any wrongdoing…
Finance police have frozen 23 million euros of the IOR's funds held in an account in an Italian bank in Rome after authorities deemed that two transactions were suspicious.
Oh – the rule?
Thou shalt not hire crooks to run the bank!

Daylife/Reuters Pictures used by permission
The head of the Vatican Bank, Ettore Gotti Tedeschi, is under investigation as part of a money-laundering inquiry, police sources say.
Prosecutors also seized 23 million euros from the bank's accounts with another smaller institution.
The inquiry was launched after two suspicious transactions were reported to tax police in Rome.
The Vatican said it was "perplexed and astonished", and expressed full confidence in Mr Tedeschi.
The Vatican Bank, known officially as the Institute for Religious Works (IOR), was created during World War II to administer accounts held by religious orders, cardinals, bishops and priests…
The BBC's David Willey in Rome says the Bank of Italy's financial intelligence unit tipped off Italy's tax police last week, after two suspicious transactions were reported between the Vatican Bank and two different Italian banks.
The tax police seized 23m euros that the Vatican Bank had tried to transfer from a small Italian bank called Credito Artigianato.
Some 20m euros was destined for JP Morgan in Frankfurt, with the remainder going to another Italian bank, Banca del Fucino…
Mr. Tedeschi had better plan on staying off bridges without his bodyguard. Given what happened to a previous "God's banker".