Another grenade found on the beach – absent barnacles
A beach walker threw a stone for his dog to fetch – only to discover that it was a live wartime GRENADE.

The man picked up the barnacle-encrusted "stone" for his pet to chase along the sands without realising it was deadly World War 2 explosive.
In an incredible stroke of luck, an off-duty military explosive expert also on the seafront at Dovercourt, near Harwich, Essex recognised the dog's new "toy" and immediately raised the alarm.

A 100-foot cordon was hastily put up by police around the grenade as a bomb disposal team rushed to the scene.

It is the fifth World War 2 hand grenade that has been washed up on the same beach over the last five weeks…
Inspector Paul Butcher of Essex Police said…"We think the grenades may have been in a crate that ended up in the sea during World War Two and that it might now be breaking up or has been disturbed by dredging work in the area.

"The result is that these five devices have all been washed ashore on the same stretch of the bay so we are asking people to be vigilant if they go onto the beach and dial 999 if they find any of these devices.

"Some have been covered in barnacles but the one found on Saturday looked almost like new despite the fact it had been in the sea for many years."
I'm glad the dog was OK.
Thanks, Mike
A dead Minke whale that washed ashore in New Jersey suffered some further indignity: someone tagged it with graffiti. The whale, which was roughly 12 to 15 feet long, was discovered Thursday morning below Atlantic City's Central Pier.

Police tell The Press of Atlantic City the purple markings are not gang-related and appear to be Greek letters. The letters appeared to be Tau Epsilon Phi, a fraternity that has chapters at several area schools, followed by what looked like "94."
Spokesman Jesse Cohen says while it has not been confirmed that Tau Epsilon Phi members were involved, the fraternity considers it a "reprehensible act" contrary to its teachings and is cooperating with authorities.

A state pathologist will try to determine the cause of death.
Idiots. Meatheads whose sterile self-image requires defacing something as natural as a death in nature are about as useless and unproductive as most of the phonies we're saddled with in politics.
Art – my arse!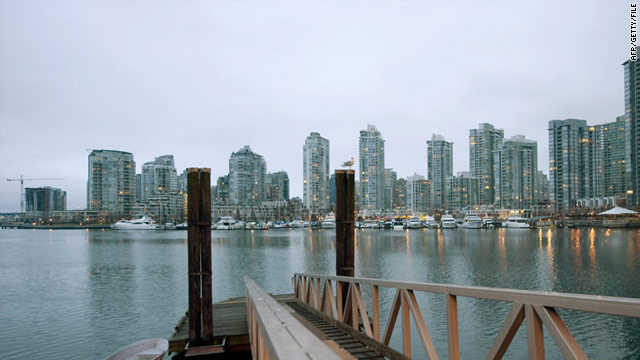 False Creek Inlet by Vancouver
A human foot has washed up on a beach near Vancouver, the 11th such find in four years in the region, a Canadian coroner said Thursday, adding to a macabre mystery.
An autopsy on the foot established that it had become separated from its leg due to prolonged water exposure, a statement issued by the British Columbia Coroners Service said, noting no evidence of trauma.
DNA analysis was being carried out on the foot, which was found on Tuesday afternoon and was the eighth recovered in the Vancouver area since 2007. Another three feet have washed up on US beaches off neighboring Washington state in the same time period…
Although none of the medical analyses indicated foul play, local officials have said that the high number of bridges over waterways in the area points towards possible suicides of those whose feet were found.
"We cannot completely exclude a murder, we don't know why they died, but we have no evidence they were murdered," Coroner Stephen Fonseca, chief of the identification unit, told AFP.
"Every year we find incomplete bodies in the woodlands, on land and in water. Feet will separate naturally, by decomposition and by action of scavengers — coyotes, bears and small rodents."
I guess we're to presume our helpful woodland critters then carry the feet of bodies found and munched as forest snacks to nearby bodies of water – to send them off on journeys to mystify those silly humans who live nearby.