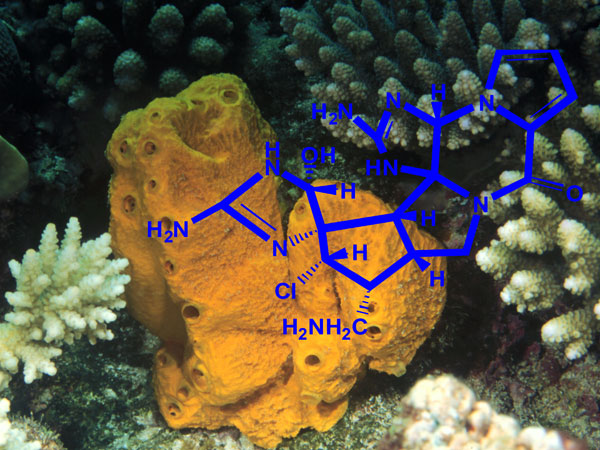 In 1993 researchers discovered a chemical compound in a sponge off Palau, an island nation in the Pacific Ocean, that has shown anticancer, antibacterial, and antifungal pharmaceutical promise. But that wasn't its greatest allure, at least not for chemists.
This compound, called Palau'amine, is so chemically complex that finding a way to produce it in the laboratory became the most hotly pursued synthetic chemistry goal in modern history. Groups around the globe dedicated millions to the challenge, but it is a team of scientists from The Scripps Research Institute that has finally completed the quest.
Anonymous reviewers of the team's paper describing the achievement, which will be published as the cover article of an upcoming edition of the international journal Angewandte Chemie, called the work variously "a masterpiece," "spectacular," "a landmark," and "a spectacular synthetic achievement including unprecedented and previously 'unthinkable' transformations…"
Given the difficulty of the task, the synthesis would have been impressive at any length. But, with 25 steps currently involved, it would be difficult to make substantial quantities of Palau'imine for commercial purposes. So the Baran team has already devised a scheme that could shave as many as ten steps from the overall synthesis process and hopes to ultimately provide substantial quantities of the compound to other researchers and commercial partners that will pursue Palau'amine's pharmaceutical potential.
While Palau'amine had achieved a special and rare prominence as an apex challenge, it's just one in a sea of other opportunities according to Phil Baran, PhD, all with important potential benefits of their own.
"In my opinion there are a lot of treasures out there like Palau'amine," he says, "There are so many amazing challenges in chemical synthesis waiting to be solved."
There are beaucoup scientists around the world like Dr. Baran at Scripps working to take basic research into directions unthought of just a few decades ago. Fortunately, they're dedicated to scientific methods which ignore Talking Heads and ideologues who fear science as much as they hate political change.