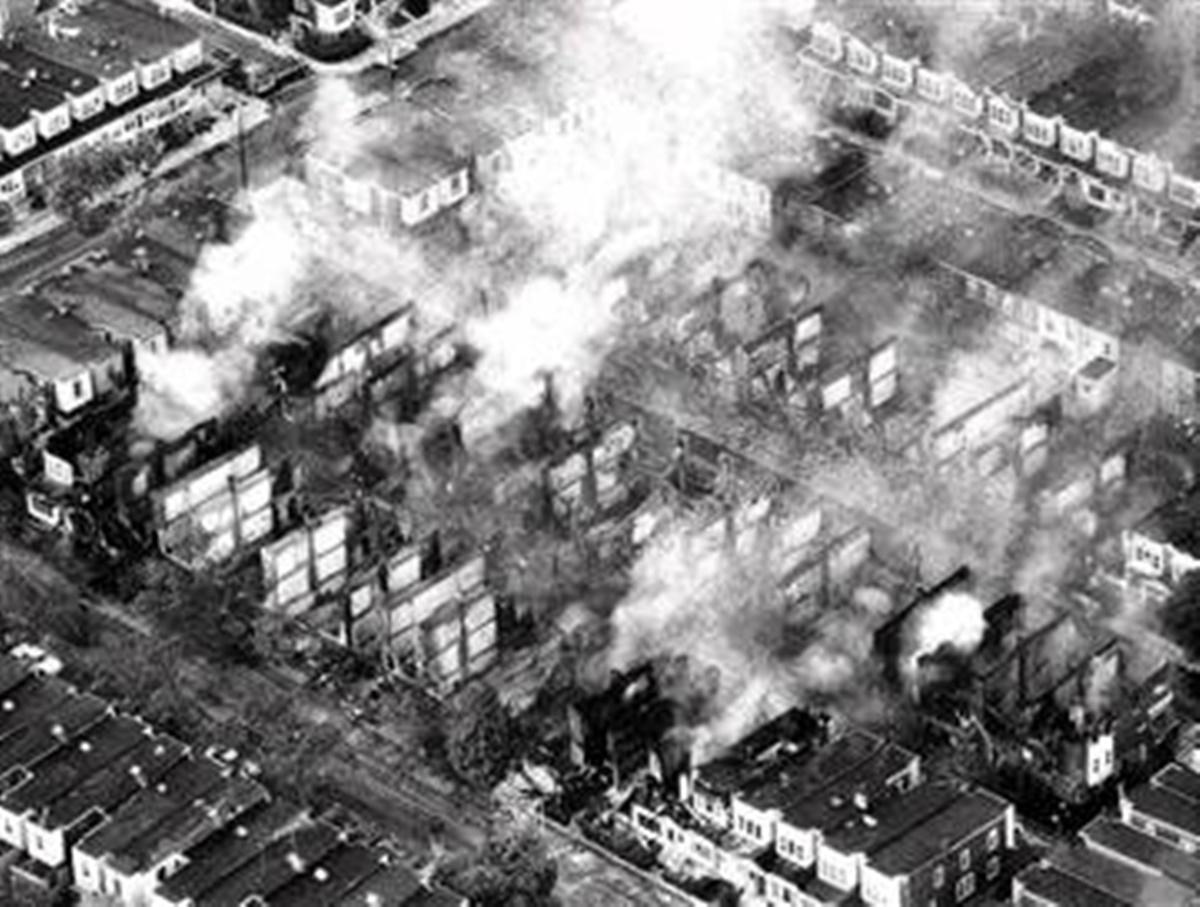 Thirty years ago…in an act of state-sponsored terrorism, police in Philadelphia, Pennsylvania, dropped powerful bombs on a home that served as the headquarters of the MOVE organization, resulting in the deaths of 11 people, including 5 children.
The MOVE organization was a Black liberation group that also exposed a radical environmental outlook. The organization and its members were seen as a thorn in the side of Philadelphia police and city officials.

Police and MOVE members had clashed before, resulting in the death of one police officer in 1978 and the imprisonment of 9 members of the organization for their role. That incident would pale in comparison to the events of May 13, 1985.
City officials, firefighters, and heavily-armed police arrived at the headquarters of the organizations, a fortified row house in a residential area of West Philadelphia. Police had come to arrest four members of the group for relatively minor offenses such as parole violations.

When members — who were adamantly opposed to police actions — put up resistance, police responded with startling brutality.
Firefighters attempted to flush people out of the building using powerful fire houses. When that didn't work police fired tear gas into the building before firing thousands of rounds of live ammunition. None of those actions were successful. It was then that Philadelphia police commissioner George Sambor ordered a police helicopter to drop two bombs on the roof of the house.

The resulting explosion tore through the building and ultimately burned approximately 60 neighboring houses. Ramona Africa, one of two survivors, stated that police shot live rounds at people who attempted to flee the inferno.

The firefighters on scene were ordered to let the building burn.
Despite a commission ordered by then Mayor Wilson Goode that deemed the actions "unconscionable," not one city official or police officer was ever prosecuted. A grand jury, steered by police-friendly prosecutors, cleared all involved of any criminal liability.
If we had a Justice Department and a President back then who at least allowed an investigation – do you think something might have been done? Something that had sufficient effect upon police violence to have prevented some of the murders of unarmed civilians by cops, nowadays?