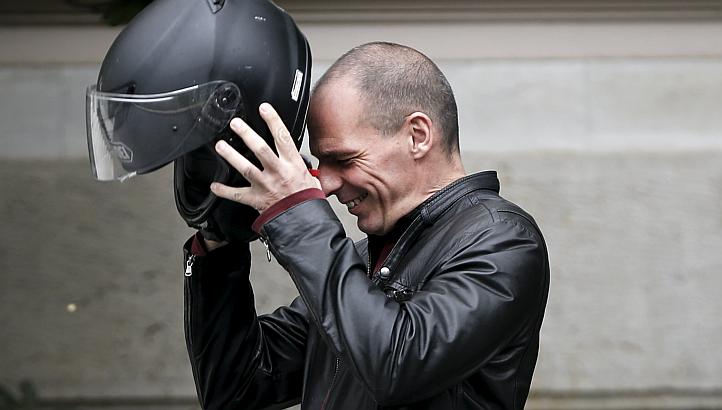 Click for video — With flair and style, Yanis Varoufakis resigns as Greece' Finance Minister
Mohamed A. El-Erian, Chief Economic Adviser at Allianz and a member of its International Executive Committee, is Chairman of US President Barack Obama's Global Development Council. He previously served as CEO and co-Chief Investment Officer of PIMCO. He was named one of Foreign Policy's Top 100 Global Thinkers in 2009, 2010, 2011, and 2012.
From blaming him for the renewed collapse of the Greek economy to accusing him of illegally plotting Greece's exit from the eurozone, it has become fashionable to disparage Yanis Varoufakis, the country's former finance minister. While I have never met or spoken to him, I believe that he is getting a bad rap (and increasingly so). In the process, attention is being diverted away from the issues that are central to Greece's ability to recover and prosper – whether it stays in the eurozone or decides to leave.
That is why it is important to take note of the ideas that Varoufakis continues to espouse. Greeks and others may fault him for pursuing his agenda with too little politesse while in office. But the essence of that agenda was – and remains – largely correct.
…Greece's prime minister, Alexis Tsipras, appointed Varoufakis to lead the delicate negotiations with the country's creditors. His mandate was to recast the relationship in two important ways: render its terms more amenable to economic growth and job creation; and restore balance and dignity to the treatment of Greece by its European partners and the International Monetary Fund.

These objectives reflected Greece's frustrating and disappointing experience under two previous bailout packages administered by "the institutions" (the European Commission, the European Central Bank, and the IMF). In pursuing them, Varoufakis felt empowered by the scale of Syriza's electoral win and compelled by economic logic to press three issues that many economists believe must be addressed if sustained growth is to be restored: less and more intelligent austerity; structural reforms that better meet social objectives; and debt reduction.
These issues remain as relevant today, with Varoufakis out of government, as they were when he was tirelessly advocating for them during visits to European capitals and in tense late-night negotiations in Brussels.
RTFA to understand the reasoning behind Dr. El-Erian's defense of Varoufakis. I feel he's absolutely correct.