In pouring rain, they crossed the last few metres into Austria in the early hours of Saturday morning. The waiting Austrian police in their heavy waterproofs were taken aback by the refusal of the Hungarian bus drivers to take their passengers the last two kilometres, over the border and on to the Nickelsdorf train station where they were expected, and where a Vienna-bound train was waiting.

Instead, the officers had to guide the way with torches, helpless to offer shelter to the tired clusters of men, women and children coming through the puddles at the side of the motorway in the darkness…
A Red Cross tent offered a respite from the rain, with medics and volunteers working shifts while people waiting their turn to board special half-hourly bus and train services, laid on by the Austrian Federal Railway, to Vienna and Salzburg, and from there to Munich…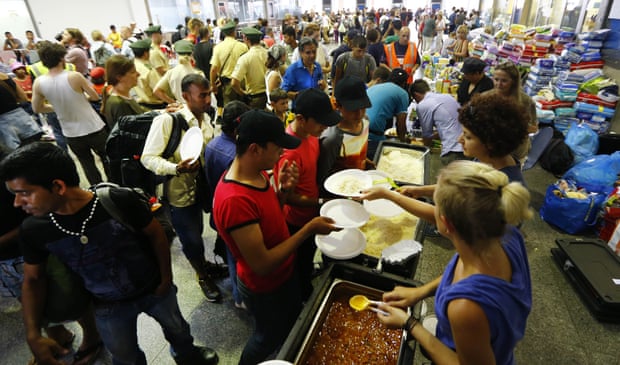 German volunteers feeding refugees as they arrive in Munich
By midday on Saturday, said Colin Turner, volunteers' spokesman at Munich railway station, a total of 3,000 people had arrived. German officials expected up to 7,000 to arrive through the city by the end of the day.

This, said the UN High Commissioner for Refugees, Antonio Guterres, was a "defining moment" for the 28-nation European Union. Already the heroes and villains of the piece were being laid out – with condemnation of the response of the Hungarian prime minister, Viktor Orbán, and praise for Germany's Angela Merkel and the Austrian chancellor, Werner Faymann, who announced they were opening their doors to refugees in the early hours of Saturday.
Around the same time, Hungary unexpectedly decided to provide buses for those who had simply walked out of Budapest on foot, heading for the Austrian border, after being prevented for several days from catching trains out of the capital. Some had been taken to a refugee camp.

In what the Hungarian media called a "day of uprisings", 350 people had broken through a police cordon on Friday and begun heading to Austria, 137km away, on tracks leading away from the railway station. By late afternoon on Friday, a day after Orbán had warned of a "Muslim threat" to a Christian culture, up to 2,000 people – most from Syria, Iraq and Afghanistan – were walking towards the border in chaotic scenes.
The sudden appearance of blue public buses was a staggering about-turn – and an unexpected rejection of the Dublin convention, which says refugees should be kept in the first EU country they enter, and which Hungary had insisted on upholding. The country is already under fire for its plans to close and wire-fence its borders, saying it will effectively seal the frontier to migrants as of next week, in the face of EU Schengen rules…
The buses triggered alarm. Many refugees distrusted the Hungarian authorities after some of those camped at Budapest railway station had earlier boarded buses that they were told were heading for the Austrian border, only to end up in a refugee camp in Hungary. Many feared a similar ploy this time. "Who's organising it, the Hungarians?" asked Ali, a Syrian on the march, after seeing the buses were coming. "Forget it, I'm walking."…
In Austria, the mood was one of pride – for the way the government responded to the crisis and for the overwhelming response from people ferrying donations of food, water and clothes to train stations in Vienna and Salzburg…

By Saturday afternoon, officials in Vienna had to ask people to stay away from the station, which was heavily overcrowded with well-wishers bearing donations…
On Saturday night at Munich's main station, dozens of Germans lined up behind police barriers to clap, cheer and distribute sweets to welcome refugees to their new home. A sophisticated official operation provided food and transport to temporary lodging.
RTFA for many more details.
To me it is clear the response from each nation's government – guided the public response. Conservatives and rightwing politicians provoked all the worst in anti-human attitudes. In other lands – like Germany and Austria, more traditional Conservatives along with their Left-wing peers focused on providing aid and assistance to refugees from war.
Same as it ever was.