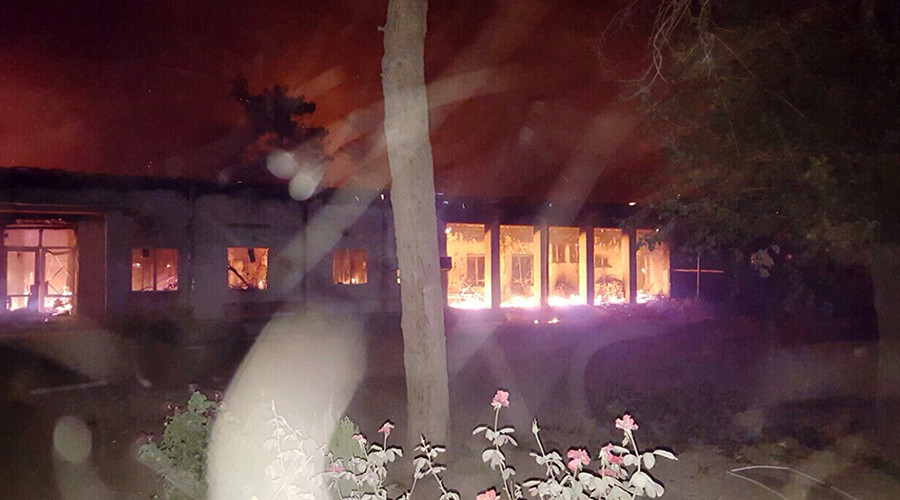 MSF/AFP
Seems like the old days doesn't it? All we need is George W's sad voice giving us the "oops" excuse. Oh well, President Obama learned how to do it pretty well. No doubt he remembers exactly the tone required.
A hospital run by Doctors Without Borders in Kunduz was badly damaged early Saturday after being hit by what appears to have been an American airstrike. At least 19 people were killed, including 12 hospital staff members, and dozens wounded.

The United States military, in a statement, confirmed an airstrike at 2:15 a.m., saying that it had been targeting individuals "who were threatening the force" and that "there may have been collateral damage to a nearby medical facility."
The airstrike set off fires that were still burning hours later, and a nurse who managed to climb out of the debris described seeing colleagues so badly burned that they had died…
President Ashraf Ghani's office released a statement Saturday evening saying that Gen. John F. Campbell, the commander of American forces in Afghanistan, had apologized for the strike. In a statement, however, Defense Secretary Ashton Carter said blah, blah, blah…
Airstrikes resulting in civilian casualties have caused tensions verging on hostility between the Afghan government and the United States for years. The former president, Hamid Karzai, was often in the uncomfortable position of explaining to his countrymen why Afghanistan's biggest ally was killing innocent Afghans…
Accounts differed as to whether there had been fighting around the hospital that might have precipitated the strike. Two hospital employees, an aide who was wounded in the bombing and a nurse who emerged unscathed, said that there had been no active fighting nearby and no Taliban fighters in the hospital.

But a Kunduz police spokesman, Sayed Sarwar Hussaini, insisted that Taliban fighters had entered the hospital and were using it as a firing position.
Doctors Without Borders, which released the casualty numbers, said 37 people were wounded of whom 19 were hospital staff and 18 were patients or their caregivers, which means mostly family members. The organization described the facility as "very badly damaged."
In a statement, the aid group accused the American military of continuing the bombing for 30 minutes after receiving phone calls telling military contacts that the hospital was being bombed.

"All parties to the conflict including in Kabul and Washington, were clearly informed of the precise location [GPS Coordinates] of the MSF facilities — hospital, guesthouse, office," the statement said.
Who do I believe? I'll take Doctors Without Borders over the Pentagon any day of the week.
RTFA for a long, detailed account of the deaths and destruction.