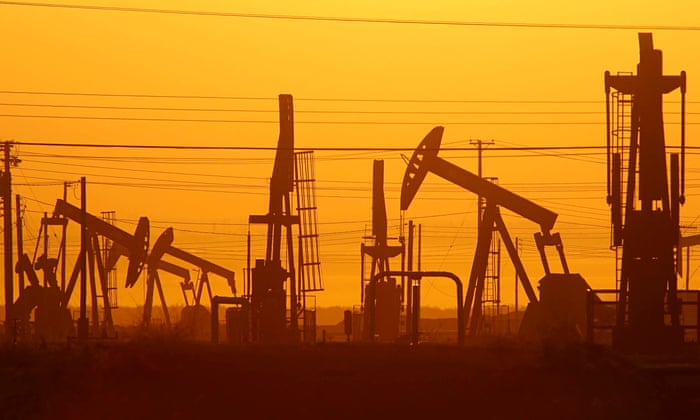 Ain't anything moving here
❝In 2015, the fracking outfits that dot America's oil-rich plains threw everything they had at $50-a-barrel crude. To cope with the 50 per cent price plunge, they laid off thousands of roughnecks, focused their rigs on the biggest gushers only and used cutting-edge technology to squeeze all the oil they could out of every well.

Those efforts, to the surprise of many observers, largely succeeded. As of this month, U.S. oil output remained within four per cent of a 43-year high.

The problem? Oil's no longer at $50. It now trades near $35.
❝For an industry that already was pushing its cost-cutting efforts to the limits, the new declines are a devastating blow. These drillers are "not set up to survive oil in the $30s," said R.T. Dukes, a senior upstream analyst for Wood Mackenzie Ltd…

The Energy Information Administration now predicts that companies operating in U.S. shale formations will cut production by a record 570,000 barrels a day in 2016. That's precisely the kind of capitulation that OPEC is seeking as it floods the world with oil, depressing prices and pressuring the world's high-cost producers. It's a high-risk strategy, one whose success will ultimately hinge on whether shale drillers drop out before the financial pain within OPEC nations themselves becomes too great…
❝"You are going to see a pickup in bankruptcy filings, a pickup in distressed asset sales and a pickup in distressed debt exchanges," said Jeff Jones, managing director at Blackhill Partners, a Dallas-based investment banking firm. "And $35 oil will clearly accelerate the distress…"
Couldn't happen to a more deserving crowd.
❝A return to cheaper oil was thought to be disastrous for shale, but companies figured out how to increase productivity and lower costs.

Producers slashed spending, idling more than 60 per cent of the rigs in the U.S. They drilled and fracked faster, meaning fewer rigs and workers could make the same number of wells. They focused on their best areas and used more sand and water in the fracking process so each well gushed with more crude. By April, when the rig count had fallen in half, output was still rising.

All that effort did was push prices lower and expectations for a price recovery further out into the future. Now shale companies face a grim future, having played most of their best cards…
Extractive industries have one supremely disastrous feature. They consider the cost of start-up [or re-starting] "too expensive". So, tapering, slowing down rates of extraction is considered a sin in the religion of profiteering. Not just oil. Coal, iron ore, copper, aluminum…all the mined commodities are in similar trouble.
And, as is traditional, the executives who acted just like their predecessors are now getting the same result. Starting with losing their jobs.
Couldn't happen to a more deserving crowd.