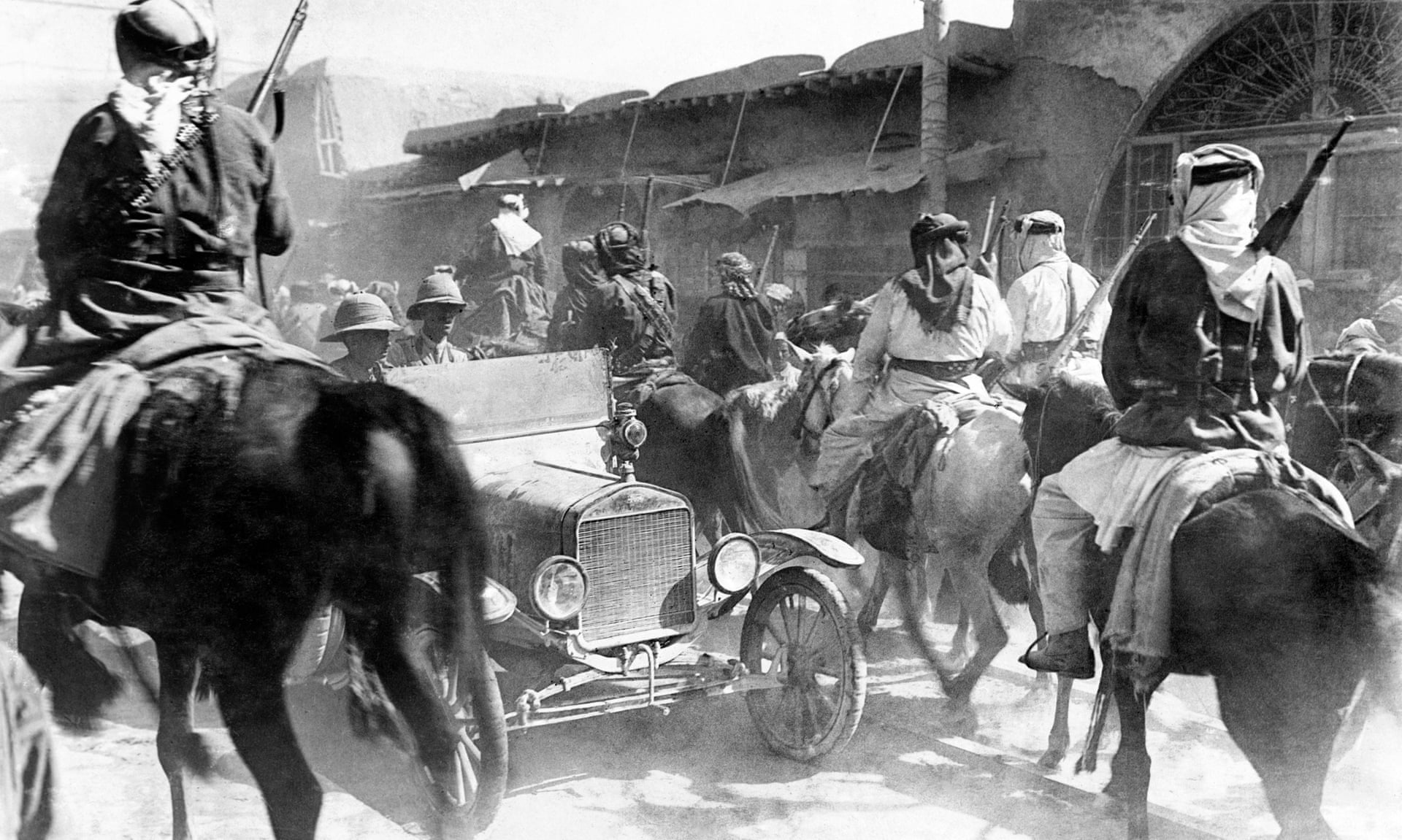 Click to enlarge — Guardian/Getty
❝…First world war agreements cooked up in London and Paris in the dying days of the Ottoman empire paved the way for new Arab nation states, the creation of Israel and the continuing plight of the Palestinians. And if their memory has faded in the west as their centenaries approach, they are still widely blamed for the problems of the region at an unusually violent and troubled time.

"This is history that the Arab peoples will never forget because they see it as directly relevant to problems they face today," argues Oxford University's Eugene Rogan, author of several influential works on modern Middle Eastern history.
❝In 2014, when Islamic State fighters broke through the desert border between Iraq and Syria – flying black flags on their captured US-made Humvees – and announced the creation of a transnational caliphate, they triumphantly pronounced the death of Sykes-Picot. That gave a half-forgotten and much-misrepresented colonial-era deal a starring role in their propaganda war – and a new lease of life on Twitter.
❝Half truths go a long way: the secret agreement between Sir Mark Sykes and François Georges-Picot in May 1916 divided the Ottoman lands into British and French spheres – and came to light only when it was published by the Bolsheviks.

It also famously contradicted earlier promises made by the British to Sharif Hussein of Mecca before he launched what TE Lawrence called the "revolt in the desert" against the Turks. It did not draw the borders of Arab states – that came later – but it has become a kind of convenient shorthand for western double-dealing and perfidy.

And it was undermined too by the Balfour Declaration in November 1917 – mourned for decades by Palestinians remembering how "his Majesty's government viewed with favour the establishment of a national home for the Jewish people" when Zionism was a novel response to European antisemitism and Jews a small minority in the Holy Land.
❝Looking ahead, officials in the UK Foreign Office are brainstorming anxiously about how to mark these agreements. It is far harder than remembering the first world war's military anniversaries – Flanders, Gallipoli, the Somme – because while British and allied sacrifices and heroism can be celebrated and honoured, these were political acts that have left a toxic residue of resentment and conflict.
RTFA for a refresher course that may be a first-time for many this side of the pond. Useful details, innuendo and conspiracy – and one significant absence in my mind. Though the original characters in this drama were aware of the potential value of regional oil reserves, the history noted in the article makes no mention.
Here's another article in the run-up to all this – that leads to notes like:
"In June 1914, just days before outbreak of war, the British Government, acting on First Lord of the Admiralty Winston Churchill's urging, bought the majority share of the stock of Anglo-Persian Oil Company and with it she took automatically APOC's major share in Deutsche Bank's Turkish Petroleum Company. London left nothing to chance."
APOC now has a shorter name: BP
Thanks, gocomics.org