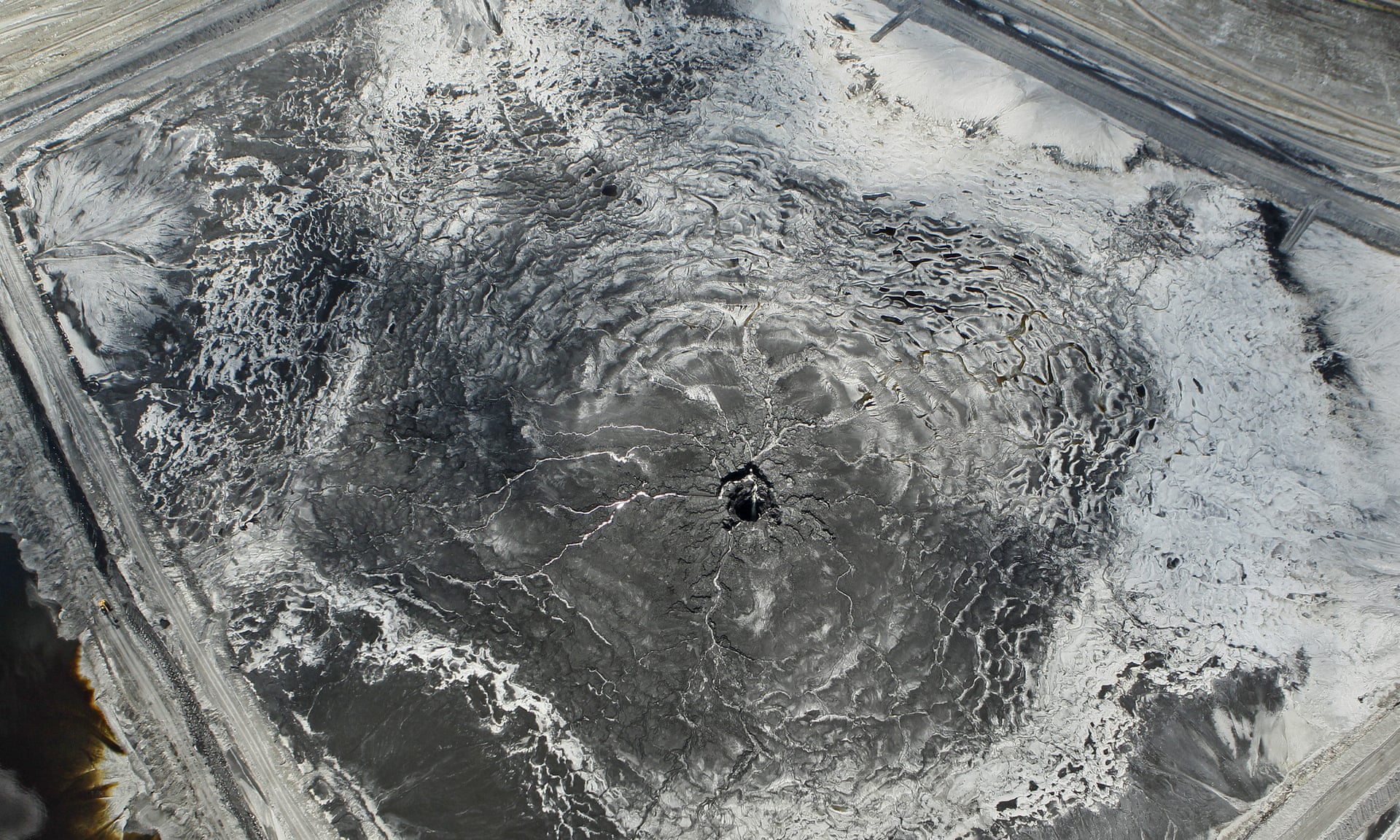 Click to enlarge — Jim Damaske/AP
The hole in the middle of that now-empty pond is 45 feet in diameter
❝ More than 200 million gallons of contaminated wastewater from a fertilizer plant in central Florida leaked into one of the state's main underground sources of drinking water after a huge sinkhole opened up beneath a storage pond…

Mosaic, the world's largest supplier of phosphate, said the hole opened up beneath a pile of waste material called a "gypsum stack". The 215 million gallon storage pond sat atop the waste mineral pile…

"Groundwater moves very slowly," said David Jellerson, Mosaic's senior director for environmental and phosphate projects. "There's absolutely nobody at risk."…
Does that mean he's drinking water from a local source — every day?
❝ The sinkhole, discovered by a worker on 27 August, is believed to reach down to the Floridan aquifer, the company said in a news release…

The Floridan aquifer is a major source of drinking water in the state. One of the highest-producing aquifers in the world, it underlies all of Florida and extends into southern Alabama, Georgia and South Carolina.

According to the University of Florida, it's the principal source of groundwater for much of the state, and the cities of Tallahassee, Jacksonville, Gainesville, Orlando, Daytona Beach, Tampa, and St Petersburg all rely on it. The aquifer also supplies water to thousands of domestic, industrial and irrigation wells throughout the state…
❝ The incident comes less than a year after Mosaic, one of the world's largest fertilizer makers, settled a vast federal environmental lawsuit with the US Environmental Protection Agency in which the company agreed to nearly $2 billion in fixes, improvements and cleanups at its plants…
The usual lies will continue from free market politicians and libertarians who hold that voluntary policing, self-regulation is all that corporate exploiters ever need. That lawsuit after lawsuit is required on an annual basis to acquire any level of environmental safety and sanity doesn't seem to dent the myths that insulate conservative brains from reality.