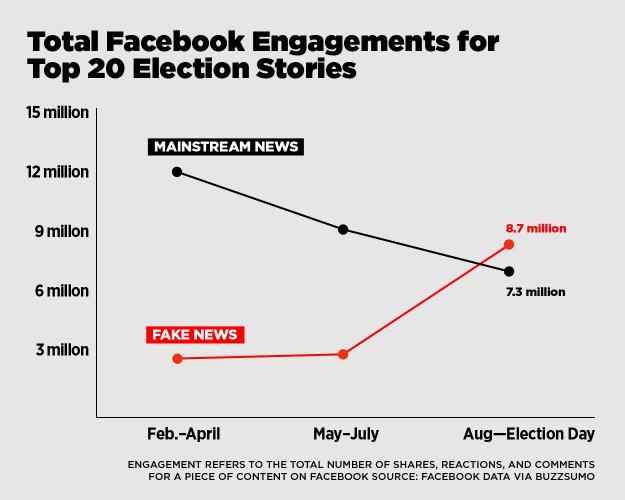 ❝ Facebook is facing increasing criticism over its role in the 2016 US presidential election because it allowed propaganda lies disguised as news stories to spread on the social-media site unchecked…
❝ Business Insider's Alyson Shontell called Facebook CEO Mark Zuckerberg's reaction to this criticism "tone-deaf." His public stance is that fake news is such a small percentage of the stuff shared on Facebook that it couldn't have had an impact. This even while Facebook has officially vowed to do better and insisted that ferreting out the real news from the lies is a difficult technical problem.
❝ Just how hard of a problem is it for an algorithm to determine real news from lies?

During a hackathon at Princeton University, four college students created one in the form of a Chrome browser extension in just 36 hours. They named their project "FiB: Stop living a lie."
❝ The students are Nabanita De, a second-year master's student in computer science student at the University of Massachusetts at Amherst; Anant Goel, a freshman at Purdue University; Mark Craft, a sophomore at the University of Illinois at Urbana-Champaign; and Qinglin Chen, a sophomore also at the University of Illinois at Urbana-Champaign.
❝ Their News Feed authenticity checker…classifies every post, be it pictures, adult content pictures, fake links, malware links, fake news links as verified or non-verified using artificial intelligence…

The browser plug-in then adds a little tag in the corner that says whether the story is verified.
Game, set and match. Facebook is one of the sponsors of that hackathon. Better take a closer look at the coders, Zuck.