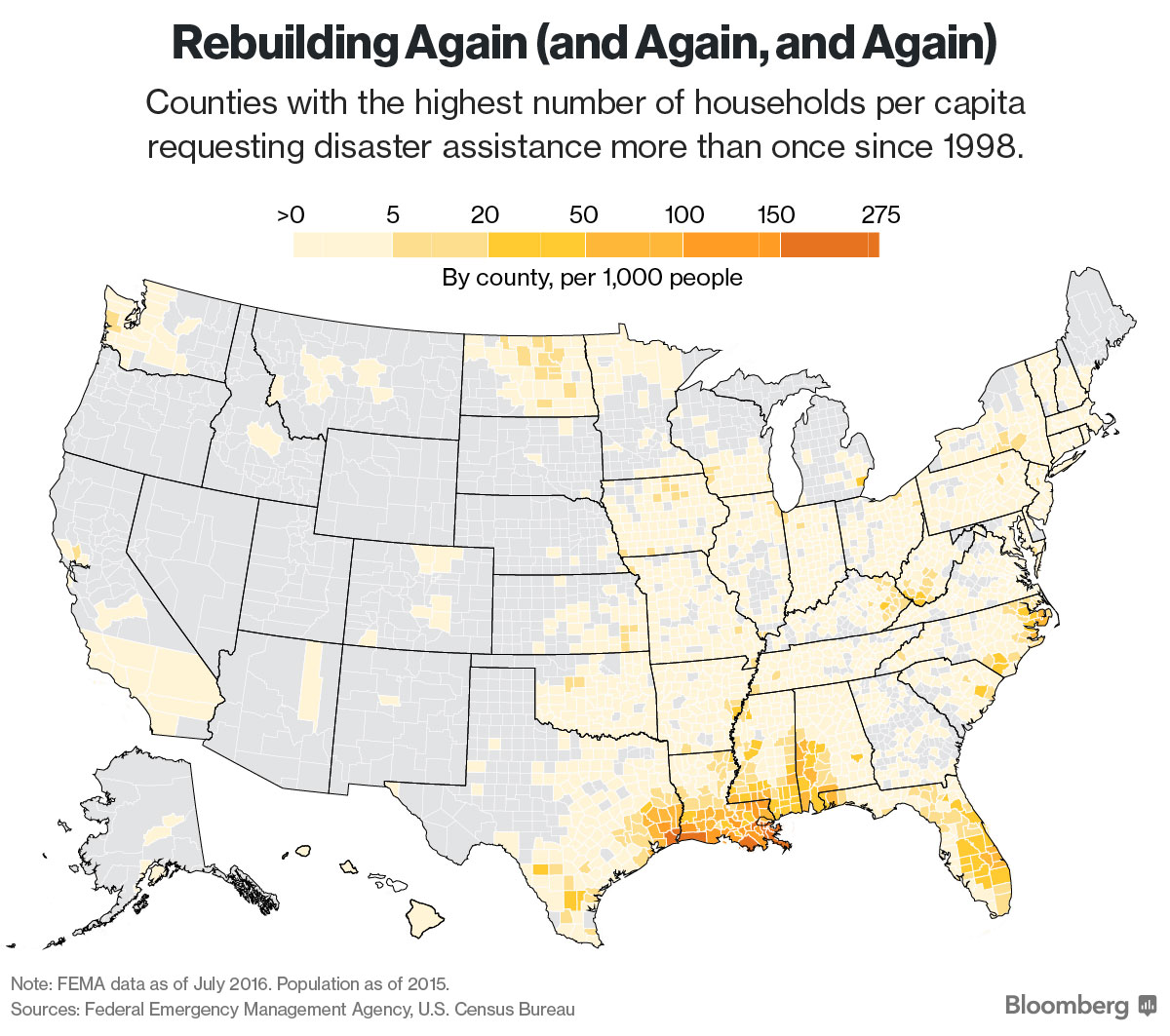 ❝ You could drive a shrimp boat 1,300 miles along the Gulf Coast from Corpus Christi to Fort Myers and not pass a single county or parish that voted against Donald Trump. The cities and towns along that shoreline had better hope he remembers their support: Without increasing levels of federal spending, climate change could push parts of them out of existence.

So far this year, the Federal Emergency Management Agency has spent $1.1 billion on what are called Individual Assistance payments, which help households recover from natural disasters. There are no limits on the number of times a household can apply, so the program isn't just a safety net; for some people, it's effectively a subsidy to live in areas that are especially vulnerable to hurricanes, floods and storm surges.
❝ That hasn't gone unnoticed in Washington. In 1999, a Nebraska congressman introduced a bill preventing some properties with multiple claims from getting help — not just disaster relief, but also subsidized flood insurance. Two years later, the George W. Bush administration's first budget proposed denying aid to the "worst offending repetitive loss properties." Under President Barack Obama, FEMA proposed reducing disaster aid for public buildings damaged more than once in the previous decade if local governments hadn't done anything to protect them…

None of those proposals took effect. But as extreme weather gets worse, those federal subsidies will only become more expensive — increasing the need to rethink government support for those who choose to live in harm's way…

That means it's time to consider an impolitic question: If federal support gets rolled back, which areas will people have the greatest incentive to leave?
Nice in-depth article. Filled with facts and data required by decision-makers and folks making big and little business decisions. Where to locate. What markets will grow. Nothing a Trump Chump ever cares about.