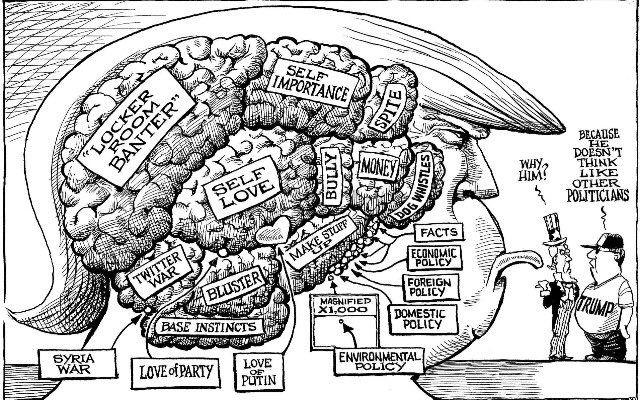 ❝ Donald Trump gives every indication of wanting to govern like a conventional conservative Republican on the vast majority of domestic issues. One big potential exception is trade, where he campaigned in an unorthodox manner and is setting the stage for a shake-up of how federal trade policy is normally conducted.

One part of that is Trump has stated his intention to make Commerce Secretary (and billionaire investor) Wilbur Ross the lead authority on trade negotiations. The other is that he is tapping University of California economist Peter Navarro for a brand new White House job, heading up something Trump is calling the National Trade Council…
❝ This makes sense, since Ross and Navarro were the co-authors of an important policy paper the Trump campaign put out during the election season that mostly focused on trade issues.

Unfortunately, the paper's discussion of trade was incredibly shoddy. George Mason University's Scott Sumner describes as "a complete mess," which, if anything, is too kind. When Adam Davidson profiled Navarro for the New Yorker, he wrote that even when he asked Navarro to help him out, he couldn't find a single other economist who fully agreed with him on trade and China. Which is about what you would expect, since the Ross/Navarro trade policy analysis is based on a mistake that would get you flunked out of an AP economics class.
❝ "When net exports are negative," Ross and Navarro write, "that is, when a country runs a trade deficit by importing more than it exports, this subtracts from growth."

They believe that, therefore, we can boost growth by curtailing imports…
❝ Reading this, you might wonder why it is that in the real world, economists actually do try to develop complex computer models of the economy. The answer is that the alternative method Ross and Navarro are proposing doesn't even remotely work…
❝ According to Ross and Navarro, if the United States made it illegal to import oil, thus wiping $180 billion off the trade deficit, our GDP would rise by $180 billion. With labor constituting 44 percent of GDP, that would mean about $80 billion worth of higher wages for American workers. So why doesn't Congress take this simple, easy step to boost growth and create jobs?

Well, because it's ridiculous.

What would actually happen is that gasoline would become much more expensive, consumers would need to cut back spending on non-gasoline items, businesses would face a higher cost structure, and the overall economy would slow down with inflation-adjusted incomes falling. Modeling the precise impact of a total shutdown of oil imports is hard (hence the computer models). But we know from experience the directional impact of sharp disruptions in the supply of imported oil, and it's not at all what Ross and Navarro say it would be.
❝ [These clowns use] an accounting procedure, not a causal theory. The accounting procedure says that government purchases are an element of GDP — higher G means higher GDP, and absolutely everyone agrees on that. But whether increasing government spending will boost or harm the economy is obviously a hot topic of political debate. A sensible high-level take would be "it depends." It matters what you spend the money on; it matters how you raise the revenue and what the larger economic situation is.

The net exports situation is just the same. If America's net exports grow because America becomes a fashionable tourist destination and sales of Boeing airplanes surge, then that will boost the economy. But if America's net exports grow because new Trump-imposed taxes cause the price of imported goods to surge, then the economy is going to shrink.

It is reasonably common for people to make the kind of mistake that Ross and Navarro are making here, which is why professors generally make it a point of emphasis when introducing the GDP concept to students. Why a credentialed economist would do it in a policy paper for a presidential candidate is another matter.
If you're only speaking to populist, uneducated, dispirited voters it works pretty well. You don't have to deliver on anything more than bullshit ideology. Drag this silliness into the arena of trade and commerce, markets and macro economics – and we're all screwed.