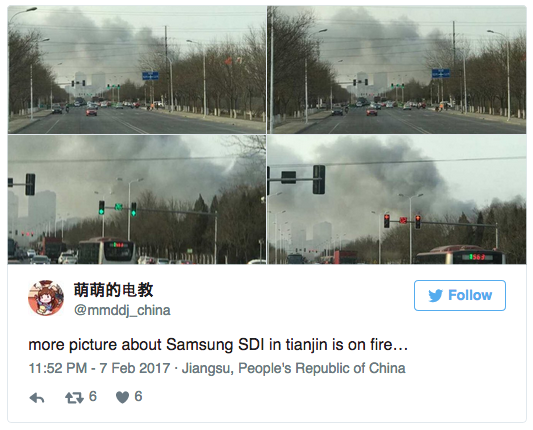 ❝ The factory tasked with producing and later recycling the batteries for the self-detonating Samsung Galaxy Note 7 has itself fallen victim to a fire.

Defective batteries and other faulty hardware stored in a recycling center went up in smoke at the Samsung SDI facility in Wuqing, Tianjin, in China. No injuries were reported, although environmental protection workers have been called in to monitor air quality. The plant is snuggled in a suburban area. Some 19 fire engines and more than 110 firefighters turned up shortly after 6am to tackle the flames…
❝ Apparently, the fire occurred in an area dedicated to housing waste and defective batteries marked for recycling. The rest of the factory, including its production lines, was not significantly damaged and normal operations will resume…
❝ The Tianjin factory is one of two that had manufactured the ill-fated battery pack for the Note 7 phablet. Shortly after release, the battery pack was found to be prone to exploding without warning…

The cause of the exploding packs was eventually pinned on a combination of poor design and rushed assembly that resulted in widespread defects and failed safety measures.
Phew. Good thing I ain't superstitious. Might be some mysterioso revenge shade at work, eh?