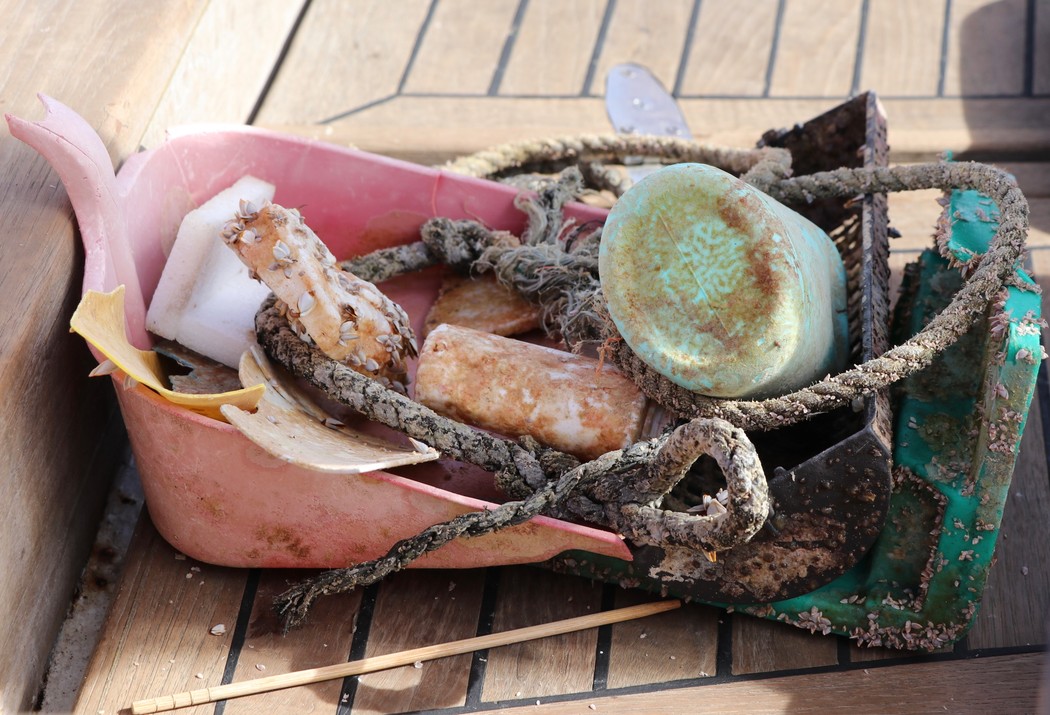 ❝ The Pacific is full of plastic, home to one of the most famous pollution hotspots in the world, the Great Pacific Garbage Patch. There, plastic trash swirls around in a circular ocean current, or gyre, all around the Pacific between California and Hawaii.
❝ I was invited aboard the Christianshavn by Plastic Change, a Danish nonprofit fighting plastic pollution, to see the group's plastic monitoring work in action. (Plastic Change also invited American artist Chris Jordan, who's famous for his photographs of plastic-filled albatrosses, to come aboard and document their work.)

Henrik Beha Pedersen, an environmental biologist and co-owner of Christianshavn, founded Plastic Change just three years ago and has set out to collect the latest scientific data on ocean plastics. His biggest focus isn't on the large pieces of trash that we see floating by the ship every 15 minutes or so—an abandoned plastic fishing buoy, a jagged piece of an orange laundry basket, a tangled mass of colorful nylon ropes and fishing nets. Plastic Change's biggest focus is on the tiny white specs that cloud the ocean's surface in large blobs, plastic particles five millimeter or less in size called microplastic.
❝ Microplastic is tiny, with some pieces too small to be seen with the naked eye. Because it's so small, microplastic is accidentally consumed by small ocean creatures from zooplankton to larval fish, where it then moves up the food chain. Larger pieces of plastic also pose a risk to marine wildlife, such as sea turtles, which often mistake plastic bags for jellyfish, and seabirds like Laysan albatross, which are regularly found with lighters and children's toys in their stomachs.

Besides posing a choking hazard, plastic poisons the animals that consume it. Scientists says this poisoning effect is currently a growing concern with plastic pollution.
Click the link and carry on reading from there. The human species in all its classes and conveniences is killing the seas.