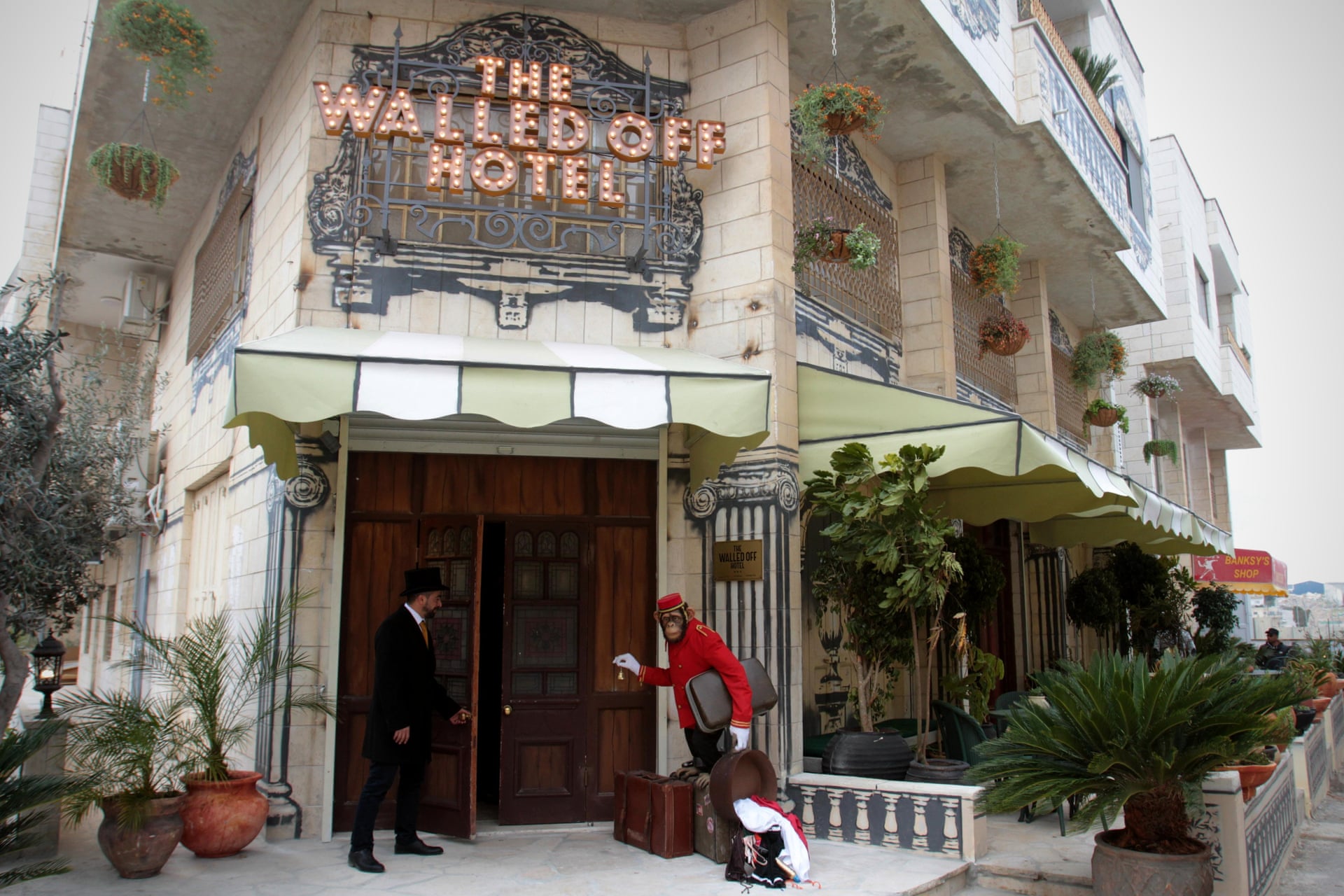 Worst view in the world — Quique Kierszenbaum/Guardian
Click to enlarge
❝ The Walled Off hotel may sound utilitarian, even bleak. Its owner says it has "the worst view of any hotel in the world", while its 10 rooms get just 25 minutes of direct sunlight a day.

But, nestled against the controversial barrier wall separating Israel from the Palestinian territories, the West Bank's answer to the Waldorf offers travellers something more elusive than any luxury destination.

The lodging in Bethlehem is a hotel, museum, protest and gallery all in one, packed with the artworks and angry brilliance of its owner, British street artist Banksy.
❝ From the disconcertingly lavish presidential suite where water splashes from a bullet-strafed watertank into the hot tub, to the bunk-beds in the budget room scavenged from an abandoned army barracks, the hotel is playful and strongly political.

All the rooms look out on to the concrete slabs of the wall and some have views over it to pill boxes and an Israeli settlement – illegal under international law – on the hillside beyond.
❝ Banksy's reputation is likely to keep all rooms fully booked, but he wants guests to leave with more than just a selfie. "It's a three-storey cure for fanaticism, with limited car parking," he added in the statement.

The hotel opens to guests on 20 March, with bookings via the website. The team hope Israelis, who rarely see the barrier wall up close or visit Palestinian towns, will be among the guests, even though visiting means breaking the law…

Israelis are banned from visiting Bethlehem and its famous sites. And although Banksy has chosen a site officially under Israeli military control – meaning it is legal for Israelis to stay there – all the roads to reach it involve an illegal journey through Palestinian-controlled territory.
RTFA. Learn a little more about life in what American politicians uniformly call the leading middle East democracy.
Thanks, Honeyman –
– and just because you're now certified for Level 1 Superbikes doesn't mean you can double the speed limits in Tasmania! 🙂