Thanks, gocomics.org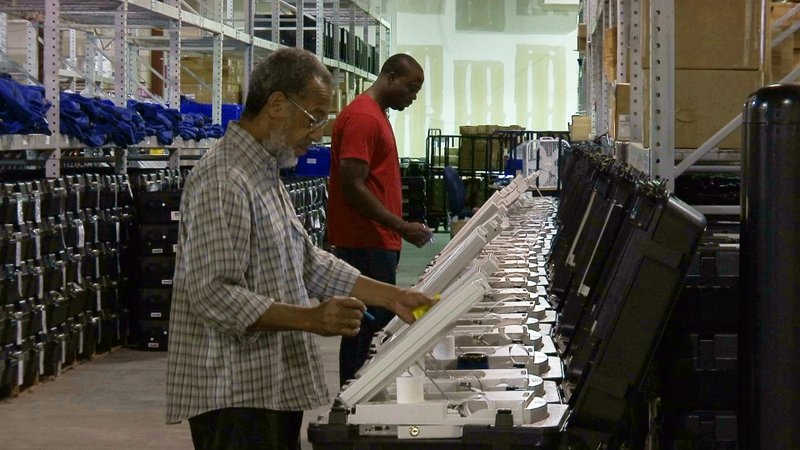 County employees checking crappy out-of-date touchscreen voting machines
❝ A security researcher disclosed a gaping security hole at the outfit that manages Georgia's election technology, days before the state holds a closely watched congressional runoff vote on June 20.

The security failure left the state's 6.7 million voter records and other sensitive files exposed to hackers, and may have been left unpatched for seven months. The revealed files might have allowed attackers to plant malware and possibly rig votes or wreak chaos with voter rolls during elections…
❝ Logan Lamb, a 29-year-old Atlanta-based private security researcher…made the discovery last August. He…felt the election center had not been serious enough about security and came forward with his findings, this week.
❝ Lamb discovered the security hole — a misconfigured server — one day as he did a search of the Kennesaw State election-systems website. There, he found a directory open to the internet that contained not just the state voter database, but PDF files with instructions and passwords used by poll workers to sign into a central server used on Election Day. Lamb said he downloaded 15 gigabytes of data, which he later destroyed…

The directory of files "was already indexed by Google," Lamb said in an interview — meaning that anyone could have found it with the right search.
❝ "I don't know if the vote could have been rigged, but compromising that server would have served as a great pivot point and malware could have been planted easily," he added.
❝ Lamb said he notified the center's director, Merle King, who assured him the hole would be patched and who asked to keep his discovery to himself.
RTFA for the details. Usually, we can categorize information like this as either stupid or ignorant. Maybe we should add incompetent.

Click to enlarge — University of Manitoba
❝ The Science Team of the Canadian Research Icebreaker CCGS Amundsen has cancelled the first leg of the 2017 Expedition due to complications associated with the southward motion of hazardous Arctic sea ice, caused by climate change.

This regrettably postpones the much-anticipated Hudson Bay System Study (BaySys) involving 40 scientists from five universities across Canada. Timing was key for this $17 million, four-year, University of Manitoba-led project.

The need to deal with extreme ice conditions in the south meant the ship would arrive too late on site to meet research objectives…
❝ Dr. David Barber, Expedition Chief Scientist, noted that, "Climate-related changes in Arctic sea ice not only reduce its extent and thickness but also increase its mobility meaning that ice conditions are likely to become more variable and severe conditions such as these will occur more often."

The Sea Ice Research Team collected a comprehensive dataset on the physics of the ice, ocean and atmosphere in the area and these data will contribute to the understanding of these events and assist Canada in preparing for climate change driven increases in marine ice hazards…
❝ The research of our scientists clearly indicate that climate change is not something that is going to happen in the future – it is already here. Research results from scientists onboard the Amundsen and innovative Networks like ArcticNet show the impacts of climate change in Canada's Arctic and Arctic Ocean affect not only northern ecosystems and communities, but also the environments and people living in the south of Canada – as so dramatically seen off the coast of Newfoundland.
This will not be a one-off – nor will the events be limited to an Arctic context. More likely, yes. But, natural systems, global in scope, interact and affect each other. As they will affect us.