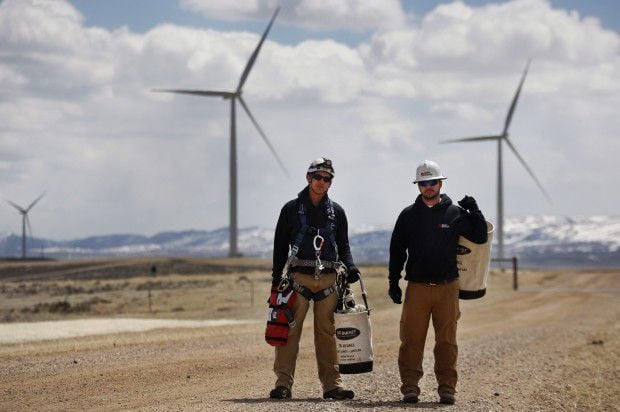 ❝ It's no secret that Wyoming has recently faced a downturn in energy prices and that workers have lost jobs. The state is filled with people who have a specific skill set, such as facing potential hazards, working at great heights and handling electrical equipment. But when oil and gas production slows or coal mines cut back on production, the opportunity to utilize those skills goes down too.

Now, an international wind manufacturing company is hoping to convince the roughnecks, mechanics and coal miners of Wyoming to join its industry, betting on the growth of wind generation in the country and a number of wind projects slated to go up in the state.
❝ Goldwind Americas, in partnership with wind developer Viridis Eolia, will offer free training to Wyoming's workforce starting with three introductory sessions in mid-July in Rawlins, Casper and Gillette. The company also plans an upcoming tour of its wind farm near Shamut, Montana.

"We believe that folks that come from certain industries, fossil fuels, oil and gas, coal, they have skills that are transferrable to the wind industry," said David Halligan, CEO of Goldwind Americas. "That's why we're offering the training and specifically why we are offering it in Wyoming."

They are training people who could maintain a wind farm, technicians who respond to mechanical problems, install replacement parts and run the day-to-day operations at a large wind site.
❝ Wind technician is the fastest growing occupation in the U.S.
And the jobs ain't going away just because today's version of Republican is trying to claw their way back to the 19th Century.